WFC Explains X-Factor Element For 9th Annual Food Fight
Share:
Posted Apr 1, 2021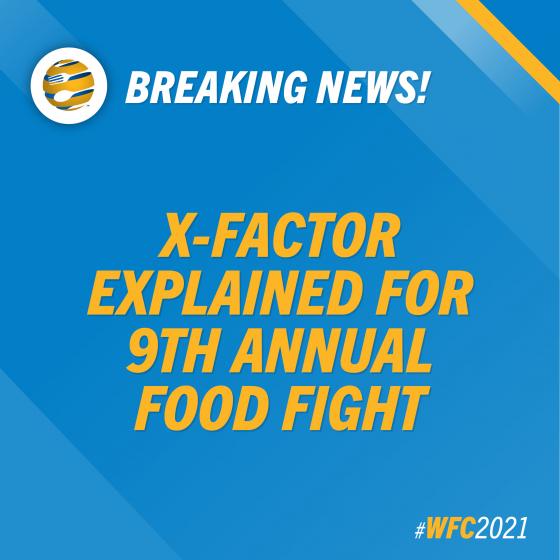 After a year of delay due to the pandemic, the most anticipated and newest Food Sport feature – the X-Factor – is set to be introduced at the 9th Annual World Food Championships (WFC) in Dallas this November. The X-Factor will play a BIG part in who will win each of the event's ten championship titles, not to mention a major portion of the $350,000 prize purse.
In 2019, WFC announced a big change in the way its dishes will be scored. That change involves the X-Factor, which will reward competitors for their creativity and risk-taking during the competition's high-stakes moments.
The "Ultimate Food Fight" –– which is held each fall in Dallas and attracts almost 500 teams –– will continue to utilize its proprietary E.A.T.™ methodology for judging 8,000+ dishes at its Main Event. By scoring dishes on their own merits — using weighted scores for Execution, Appearance and Taste — this process provides a fair system that levels the playing field for home chefs, trained chefs and pro teams.
However, one additional factor (the X-Factor) will be implemented in the judging of Top Ten Final dishes at WFC 2021, where an excellent dish and performance are paramount to becoming a category champion.
The X-Factor is defined as "the element or factor that sets a recipe apart from the others, elevates a recipe and makes a dish unique." This can be accomplished by, but not limited to, demonstrating and applying a skilled technique, accomplishing a time-consuming task or skill in the required time frame, implementing a new concept, or combining interesting flavors or ingredients in a creative and appetizing way.
Competitors who advance to WFC's Top Ten Round in each category will be required to submit and identify their X-Factor when they submit their required Top Ten recipe –– which is due by 11:59 p.m CT the day prior to their Top Ten competition.
Each competitor who submits their recipe and X-Factor prior to the deadline will automatically receive one X-Factor point. Any competitor who does not submit their recipe and X-Factor prior to the deadline will NOT receive one automatic X-Factor point; furthermore, that competitor may be in danger of LOSING additional points depending on the severity of their tardiness.
Next, an Executive Ambassador panel will assess every X-Factor submission through a blind review process and apply a score for each submission based on their perception of the intended X-Factor. The score will range from zero to two points and may be awarded in half point increments (.i.e, 0; .5; 1; 1.5; 2).
Ambassador scores will then be combined to determine an average X-Factor score for each recipe. This, along with the one automatic point for submitting your recipe and X-Factor description on time, is the score that will be added to the competitor's E.A.T.™ score to create their final score for the Top 10 Round, which will ultimately determine the winner of each category.
As usual, E.A.T™ certified judges will be tasked with scoring each of the Top 10 entries on Execution, Appearance and Taste. The X-Factor will NOT be a consideration of E.A.T™ certified judges.
Please note: X-Factor scores may not increase during active cooking. However, X-Factor scores may be DECREASED if there is evidence of a competitor not following through with their X-Factor submission. If Cheferees or WFC Officials find that to be the case, the competitor will follow an escalation procedure that will first go to the Head Cheferee for consideration, and then, if needed, to the WFC Commissioner.
Cheferees do not have the authority to decrease the X-Factor score. Penalties will only be applied after careful consideration by the Head Cheferee and/or the WFC Commissioner. Decisions made by the Head Cheferee and/or WFC Commissioner are final.
Because the X-Factor is a new and key factor to determining the 2021 World Food Category Champions, WFC's Ambassadors will be hosting a series of Facebook LIVE sessions to have a real-time discussion among competitors to address any questions or concerns about the X-Factor.
Here is the Ambassador Facebook LIVE Schedule and its discussion topics:
April 8: X-Factor X-planation

June 10: Tournament Chart Chats (plus X-Factor)

August 12: Competitor Packet Preparedness (plus X-Factor)

October 14: See Y'all In Dallas Send Off (plus X-Factor)
LIVE's are to be held on WFC's Facebook Page and times are to be determined.
In the meantime, stay up-to-date on all things Food Sport, follow the World Food Championships on Twitter (@WorldFoodChamp),Facebook and Instagram (@WorldFoodChampionships).
About World Food Championships
The World Food Championships (WFC) is the highest stakes food competition in the world. This multi-day, live event culinary competition showcases some of the world's best cooks who compete for food, fame and fortune in 10 categories (Bacon, Barbecue, Burger, Chef, Dessert, Recipe, Sandwich, Seafood, Soup and Steak). In 2019, more than 450 culinary teams from 11 countries and 42 American states competed in WFC's Main Event. In August, the 10 Category Champs went head-to-head for a $100,000 bonus that determined a new World Food Champion in a TV special called The Final Table: Indianapolis. While contestants have to earn their way into WFC by winning a Golden Ticket at a previous competition, potential judges are welcome to take WFC's online certification course that explains the E.A.T. methodology. Certified judges then request and receive available seats at the next scheduled WFC event. Click here to learn more about getting certified.
« Back to News