Sustainable Sausage Company Becomes WFC Sandwich Sponsor
Share:
Posted Mar 24, 2021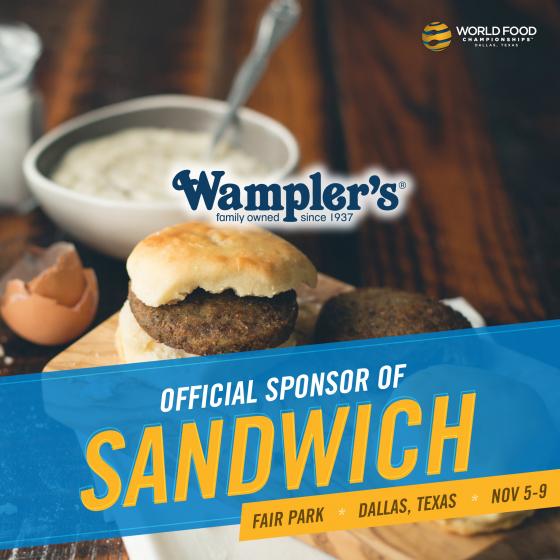 Sausage is not just for breakfast. That statement will be put to the test this year at the 9th Annual World Food Championships (WFC), thanks to long-time partner and sponsor Wampler's Farm Sausage.
Wampler's — an 84-year-old, family-owned company in Tennessee — will be sponsoring WFC's Sandwich division, which means competitors who advance into this category's Top Ten Round will be required to infuse their premium pork products.
From Wampler's All Natural Taco Meat (mild or hot) and Chorizo to Natural Omega-3 Sausage, Sandwich competitors will have an array of choices to create a $10,000 sandwich. The Food Champ who receives the highest score while infusing the premium sausage products will be crowned World Sandwich Champion and earn a seat at the $100,000 Final Table Challenge.
"We are really looking forward to seeing the diversity this will provide in the Top Ten Round of Sandwich," said Mike McCloud, President and CEO of WFC. "Most people don't immediately think of sausage when they think of a good sandwich. Having Wampler's as the 'infused' ingredient will shake it up a bit."
Wampler's is no rookie when it comes to Food Sport. WFC 2021 will mark their 5th year participating in the Ultimate Food Fight. Wampler's has linked up with WFC in more ways than one. They're also a featured ingredient in the most popular online annual qualifier –– the Taste of America recipe contest –– where up to 30 Golden Tickets will be awarded to aspiring chefs and cooks who are looking to compete at the Ultimate Food Fight in Texas. The contest opened March 1st will close on March 31st. Click here to learn more about the contest.
"WFC is a great platform for our brand," said Ted Wampler, Jr., President and CEO of Wampler's. "We've made some great connections and have been able to get our products in the hands of some of the world's most talented chefs. We are excited to see how competitors will demonstrate that sausage is a very versatile protein. It's not just a breakfast food."
In addition to producing the highest quality pork products that are all natural, gluten free and free of nitrates, nitrites or MSG, Wampler's is a responsible company. Since 2009, Wampler's has made it their mission to craft products in the most sustainable way possible. The company took its first step in what would become a corporate culture change toward becoming environmentally responsible by installing their first 30kW solar array. Now, Wampler's is the proud owner of 680kW of solar arrays that feed clean, renewable energy onto the grid, and it is the launch site for the first commercial Proton Power CHyP system in the world, which will ultimately bring their farm to net zero energy use.
"We owe it to our customers and to future generations to strive for innovation in both our environmental efforts and our product development," Wampler added.
Stay tuned for more partnership announcements about the upcoming Main Event, which is set to be held inside for the first time at Fair Park in Dallas, Nov. 6-9. Ticketing options for the foodie event will be released by July 1st. If you'd like to be one of the first to be notified when tickets go on sale, click here.
In the meantime, stay up-to-date on all culinary competition news, by following the World Food Championships on Twitter (@WorldFoodChamp), Facebook and Instagram (@WorldFoodChampionships).
About World Food Championships
The World Food Championships (WFC) is the highest stakes food competition in the world. This multi-day, live event culinary competition showcases some of the world's best cooks who compete for food, fame and fortune in 10 categories (Bacon, Barbecue, Burger, Chef, Dessert, Recipe, Sandwich, Seafood, Soup and Steak). In 2019, more than 450 culinary teams from 11 countries and 42 American states competed in WFC's Main Event. In August, the 10 Category Champs went head-to-head for a $100,000 bonus that determined a new World Food Champion in a TV special called The Final Table: Indianapolis. While contestants have to earn their way into WFC by winning a Golden Ticket at a previous competition, potential judges are welcome to take WFC's online certification course that explains the E.A.T.™ methodology. Certified judges then request and receive available seats at the next scheduled WFC event. Click here to learn more about getting certified.
« Back to News