Largest Food Sport Event Launches Nationwide Recipe Contest
Share:
Posted Mar 1, 2021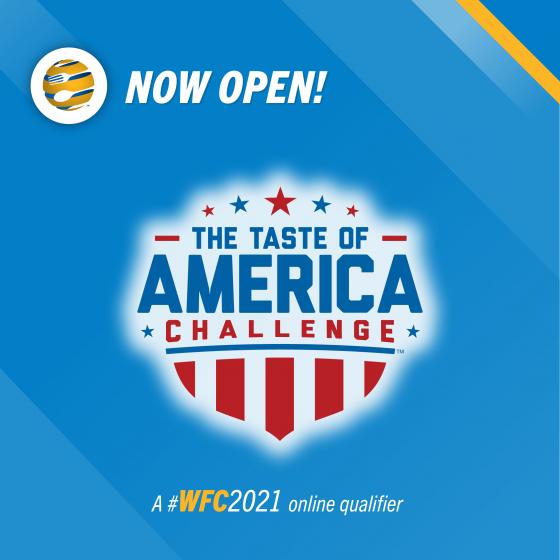 Whether you're a professional chef, home cook or seasoned food competitor, it's safe to say that we've all been spending more time in the kitchen whipping up new recipe creations during the past year of the Covid pandemic. As a result, organizers at the World Food Championships (WFC) are hosting a qualifier that invites cooks of all types to put their kitchen skills and recipes to a virtual taste test for a chance to compete for more than $350,000 in cash and prizes.
The qualifier is called the Taste of America Challenge (TOA), and it can be done in the comfort of your own home or restaurant. The best part? All you have to do is submit a great image of your "signature dish" along with its recipe through the official contest link, here. The top thirty performing recipes will be qualified and invited to compete at WFC — known as the "Ultimate Food Fight" — scheduled for November 5-9 in Dallas, TX.
"With Covid canceling many events throughout the past year, we're truly excited to be marching toward our BIG competition in Dallas," said Mike McCloud, CEO and President of WFC. "Hosting TOA as a nationwide recipe contest gives both experienced and new cooks the opportunity to showcase their cooking skills while allowing them a chance to win a 2021 Golden Ticket."
TOA challenges cooks and chefs from coast to coast and any culinary background to create innovative, eye-popping recipes that utilize WFC's 2021 primary sponsors. Those featured sponsors include:
Dishes will be scored using WFC's E.A.T.™ Methodology by a panel of hand-picked, veteran judges. While judges will not be tasting the entry dishes, they will be able to score a dish on perceived taste after studying the recipe and submitted description. WFC recommends describing prominent flavors and accents in the recipe description to help with establishing perceived taste scores.
WFC is officially accepting TOA recipe submissions from March 1-31 through the contest link at https://bit.ly/3aUl7yp. Click here to review the online qualifier's rules and regulations and which categories are open for aspiring contestants.
In the meantime, stay up-to-date on all things Food Sport, follow the World Food Championships on Twitter (@WorldFoodChamp),Facebook and Instagram (@WorldFoodChampionships).
About World Food Championships
The World Food Championships (WFC) is the highest stakes food competition in the world. This multi-day, live event culinary competition showcases some of the world's best cooks who compete for food, fame and fortune in 10 categories (Bacon, Barbecue, Burger, Chef, Dessert, Recipe, Sandwich, Seafood, Soup and Steak). In 2019, more than 450 culinary teams from 11 countries and 42 American states competed in WFC's Main Event. In August, the 10 Category Champs went head-to-head for a $100,000 bonus that determined a new World Food Champion in a TV special called The Final Table: Indianapolis. While contestants have to earn their way into WFC by winning a Golden Ticket at a previous competition, potential judges are welcome to take WFC's online certification course that explains the E.A.T. methodology. Certified judges then request and receive available seats at the next scheduled WFC event. Click here to learn more about getting certified.
« Back to News