Birmingham Chef Makes Top Five At "Final Table: Indy"
Share:
Posted Aug 31, 2020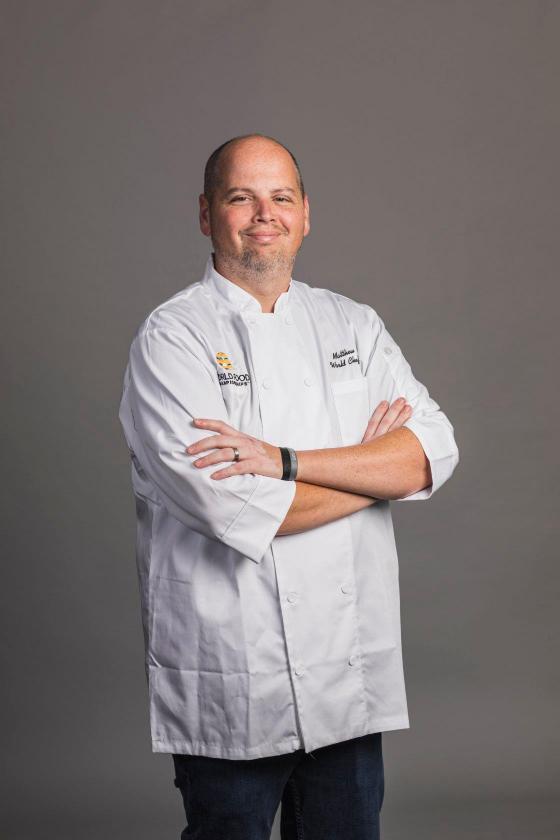 World Chef Champion, Matthew Statham battled his way to a top-five finish in Food Sport's most prestigious event. The "Final Table: Indy" culinary throwdown was held in Indianapolis in August and filmed for a special one-hour TV show that will be released in October on the Cooking Channel.
The event was hosted by the World Food Championships (WFC), Visit Indy, Ivy Tech Culinary Center and Culinary Crossroads. It featured ten Category Champions who had earned a seat during WFC's Main Event last fall in Dallas. Chef Statham completed the tournament with a 5th place finish.
In the opening round, Statham and the other champions were tasked with making a Pork and Parisian Gnocchi dish using Red Gold Tomatoes and pork cuts sourced from the National Pork Board.
He has his team, Dan Navarro Jr. and Dan Navarro III, executed the dish perfectly and presented it to a panel of knowledge specific judges including Chef James Murray from the National Pork Board. The judging panel used WFC's propriety judging system, the E.A.T.™ Methodology (which stands for Execution, Appearance and Taste) to score each dish.
Statham's dish was titled "Jager Schnitzel with Parisienne Gnocchi Spaetzle, Sweet and Sour Red Cabbage" and scored 95.25 (out of 100), earning him third place in the first round.
In Challenge Two, the remaining five champs had to recreate a delicate duck dish designed by Chef Greg Hardesty and using Maple Leaf Farms' product. Matthew and his team cut their plating close on time, but made the turn in time and presented their dish to another esteemed panel.
Scoring an 80 put Chef Statham in fifth place, though, which knocked him out of the tournament and sent him home with an additional $1,500 in prize winnings, on top of his $10,000 category win at the Main Event.
Only three cooks moved on to the final round to make an Indiana famous Sugar Cream Pie. WFC kept fans updated on results throughout the August 8th and 9th event, up until the final challenge in which all parties involved are under embargo. The Final Table: Indy event was filmed for TV production and will air on the Cooking Channel on October 3rd, 2020. At that time, the new World Food Champion will be announced!
Until then, stay up-to-date on all culinary competition news, by following the World Food Championships on Twitter (@WorldFoodChamp), Facebook and Instagram (@WorldFoodChampionships).
About World Food Championships
The World Food Championships (WFC) is the highest stakes food competition in the world. This multi-day, live event culinary competition showcases some of the world's best cooks who compete for food, fame and fortune in 10 categories (Bacon, Barbecue, Burger, Chef, Dessert, Recipe, Sandwich, Seafood, Soup and Steak). In 2019, more than 450 culinary teams from 11 countries and 42 American states competed in WFC's Main Event. In August, the 10 Category Champs faced-off in the $100,000 challenge that determined a new World Food Champion at The Final Table: Indianapolis. The 8th Annual World Food Champion will be revealed Oct. 3rd on the Cooking Channel.
« Back to News