Upcoming WFC Qualifiers Rescheduled For Later Dates
Share:
Posted Mar 31, 2020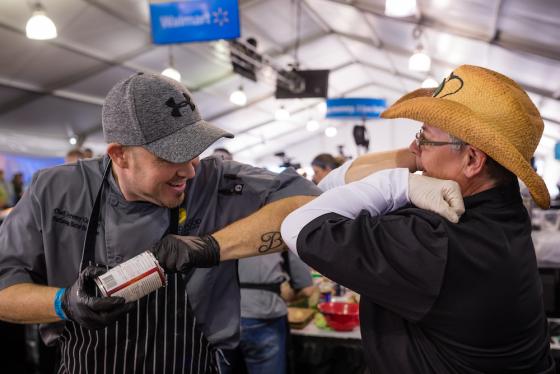 Like most sporting calendars, the qualifying season for the World Food Championships (WFC) is getting interrupted in many ways due to the COVID-19 pandemic. Even the event's crowning moment, The Final Table: Indy, has been postponed three months to ensure the health and safety of all those involved.
The next big wave of updates will involve the qualifying process, which allows cooks and chefs from around the nation and world to earn their way into WFC's Main Event in November. That's why our staff is hard at work with numerous discussions on this front, including the development of new online contests.
Currently, Taste of America — which has 250 Golden Tickets up for grabs — is wrapping up on March 31st. And right after that, Taste of Canada will kick off on April 1st, awarding more than 30 Golden Tickets throughout the Maple Leaf country.
But soon, potential contestants will be seeing new online qualifiers such as a three-day online recipe contest through WFC's social media, including a #MeatlessMonday Challenge, "What's For Dinner" Challenge and a 5-Ingredients Challenge.
In the meantime, stay up to date on events that are being postponed or changed in the coming weeks by going to our Qualifying Events Page on the WFC website.
Here's a quick update on qualifying events that have already been rescheduled for a later date:
CRO 1st Annual Salsa Smackdown (Henderson, KY)–– Rescheduled for 4/25/20
Cuban Sandwich Festival(Tampa, FL)–– Rescheduled for 5/31/20
Fairhope Emblem Club Chef Competition(Fairhope, AL)–– Rescheduled for 6/04/20
World Championship Hot Wing Contest(Memphis, TN–– Rescheduled for 6/06/20
Nashville Scene's Iron Fork (Nashville, TN)–– Rescheduled for 6/10/20

Made Here Market (Cookeville, TN)–– Rescheduled for 9/19/20
To stay up-to-date on all culinary competition news, simply follow the World Food Championships on Twitter (@WorldFoodChamp), Facebook and Instagram (@WorldFoodChampionships).
About the World Food Championships
The World Food Championships (WFC) is the highest stakes food competition in the world. This multi-day, live event culinary competition showcases some of the world's best cooks who compete for food, fame and fortune in 10 categories (Bacon, Barbecue, Burger, Chef, Dessert, Recipe, Sandwich, Seafood, Soup and Steak). In 2019, more than 450 culinary teams from 11 countries and 42 American states competed in WFC's Main Event. The 10 Category Champs crowned will now face-off in the $100,000 challenge that will determine the overall World Food Champion at The Final Table: Indianapolis August 5-9, 2020.
« Back to News