How To Share A "Taste Of Canada" With The World
Share:
Posted Mar 27, 2020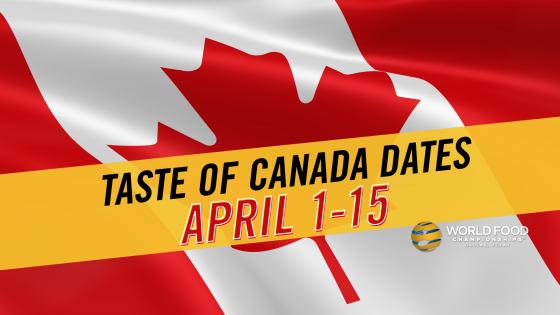 As a result of COVID-19, most chefs and cooks from around the world are finding themselves cooking from home more than ever before. With this in mind, the leader in food sport –– World Food Championships (WFC) has announced it's bringing back Canada's favorite online qualifier, the Taste of Canada (TOC) challenge, just in time to award 2020 Golden Tickets throughout the Maple Leaf country.
Falling on the heels of WFC's Taste of America (TOA) challenge, Canadians will have their shot at securing a spot at the Ultimate Food Fight, which is set in Dallas, Texas this November, by submitting innovative and creative recipes.
Golden Tickets are the gateway to competing at the $350,000 prize purse event, and up to 39 tickets are up for grabs. They will be awarded to the recipe entries that are best scored by a panel of judges using WFC's E.A.T.™ Methodology.
While judges will not be tasting the dishes, they will be able to score a dish on perceived taste after studying the entry's recipe and description. WFC recommends describing prominent flavors and accents in the contest's recipe description to help with establishing perceived taste scores.
The first-place winner from each Province/Territory will not only receive qualification for the 2020 Ultimate Food Fight but will also be awarded a waived entry fee into the tournament. Second and third place winners will receive a Golden Ticket to qualify for the event but will be responsible for their registration fee.
This online qualifier is accepting recipe submissions from April 1 - 15. Click here to enter and learn more about its rules and regulations.
Stay up-to-date on all Food Sport news, by following the World Food Championships on Twitter (@WorldFoodChamp), Facebook and Instagram (@WorldFoodChampionships).
About the World Food Championships
The World Food Championships (WFC) is the highest stakes food competition in the world. This multi-day, live event culinary competition showcases some of the world's best cooks who compete for food, fame and fortune in 10 categories (Bacon, Barbecue, Burger, Chef, Dessert, Recipe, Sandwich, Seafood, Soup and Steak). In 2019, more than 450 culinary teams from 11 countries and 42 American states competed in WFC's Main Event. The 10 Category Champs crowned will now face-off in the $100,000 challenge that will determine the overall World Food Champion at The Final Table: Indianapolis.
« Back to News