WFC Welcomes Notorious Dallas Chef to its 2020 Ambassador Council
Share:
Posted Mar 3, 2020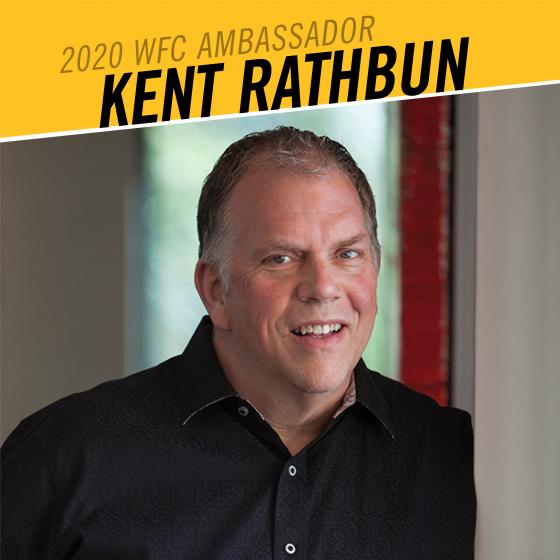 From past Food Sport competitors to seasoned chefs, the World Food Championships' (WFC) Ambassador Council is jam-packed with an array of culinary talent. The council announced WFC will be adding four-time James Beard nominee, renowned chef and Texas restaurateur, Kent Rathbun to the team for 2020. Chef Rathbun will be assisting the organization by spreading awareness about the Main Event in November at Fair Park in Dallas, Texas.
Throughout his 30 years in Dallas, Rathbun has owned and/or operated more than 18 restaurants and high-end catering. Rathbun and his wife Tracy currently run the popular local restaurants: Imoto, Shinsei, Lover's Seafood Market, and Republic with partner John Kinzer. The Rathbun family and their restaurants have received many prestigious nominations and awards including a feature on Forbes' four-star list and Zagat Survey.
Rathbun has repeatedly appeared on a number of TV shows including the Food Network's "Chef du Jour," theCBS Early Show, NBC's TODAY Showand Food Network. Additionally, he and his brother, Kevin Rathbun, defeated grill master Bobby Flay on "Iron Chef America."
"We are so excited to welcome chef Rathbun to our team of ambassadors," said Mike McCloud, President and CEO of WFC. "He is a highly respected chef with years of experience that will be a great addition to our WFC team. I know he will do an outstanding job of educating Dallasites about Food Sport and our event."
WFC's Ambassador Council helps promote the Ultimate Food Fight year-round to increase Food Sport's footprint nationwide. Chef Rathbun's first ambassador assignment will be emceeing the Dallas Observer's Iron Fork event in April. He will oversee the Chef Competition and award the winner with a 2020 Golden Ticket, which qualifies an aspiring Food Champ to compete at the Main Event. WFC's CEO and President, Mike McCloud will also be a judge for this qualifying event.
Rathbun will serve alongside WFC's experienced council members: Suzanne Clark, Darci Bos, Nancy Manlove, Jason Stucki, Chad Combs and Anthony Serrano.

The Ambassador Council's duties consist of looking at all angles, processes and rules of the competition to ensure the event runs smoothly. Throughout the year, select council members will be called upon to provide insider knowledge, judge recipe contests and new to this year – determine E.A.T.™-X scores during the tournament.
Stay tuned for more exciting news, follow the World Food Championships on Twitter (@WorldFoodChamp), Facebook and Instagram (@WorldFoodChampionships) for more Food Sport updates.
About the World Food Championships
The World Food Championships (WFC) is the highest stakes food competition in the world. This multi-day, live-event culinary competition showcases some of the world's best cooking masters competing for food, fame and fortune in ten categories. In 2019, more than 450 culinary teams from 11 countries and 42 American states competed in WFC's Main Event. The Ten Category champs crowned will now face-off in the $100,000 challenge that will determine the overall World Food Champion at The Final Table: Indianapolis in May 2020.
« Back to News