WFC Begins To Reveal Final Table Process
Share:
Posted Jan 21, 2020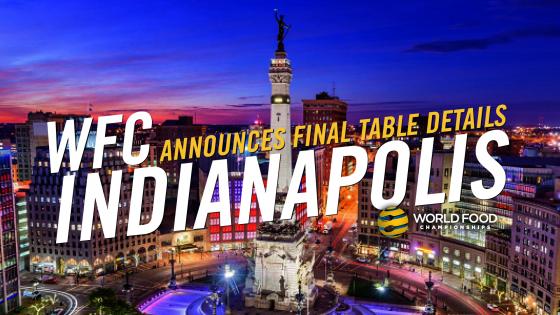 As ten Champion Chefs from around the nation turn their eyes toward Indianapolis, the World Food Championships (WFC) started revealing today details about the upcoming Final Table Challenge and how one of them will win the event's $100,000 grand prize.
As previously announced, WFC has partnered with Visit Indy to host a full week of programming — known as Culinary Crossroads: Food Week — from May 4 through May 10. WFC partners, local sponsors and members of Food Sport Nation will have exclusive opportunities to attend the Final Table Challenge, which has proven to be the Ultimate Food Fight for home cooks, champion chefs and pro teams in the culinary world. Numerous special seminars and product-related expo sessions will be included in the experience as the week unfolds.
"We are incredibly excited for this year's Final Table Challenge," said WFC's CEO and President, Mike McCloud. "The State of Indiana, Visit Indy and Team Indiana have proven to be amazing partners already, and they are working hard to build a truly spectacular week of events for our Category Champs and food fans. This year's talented group of champions are sure to produce a captivating experience for all to enjoy, whether it's in-person or at home when our national TV program hits the airwaves."
The Final Table Challenge will take place at one of the most notable culinary schools in the Indianapolis area, Ivy Tech. Complete with two commercial kitchen suites and an auditorium for public viewing, Ivy Tech is where the ten Category Champions will go head-to-head as they navigate three local cooking challenges in a span of two days (May 9-10). These challenges will be similar to last year's Final Table format, which took place in New Orleans, Louisiana.
While the exact challenge details are a tightly guarded secret for now, the Category Champions have been encouraged to study up on popular restaurants and cuisine native to Indianapolis. During the Final Table Challenge, WFC will continually update its Food Sport audience through its social media platforms until, finally, "going dark" during the third and final challenge at the event. This is when one of three remaining Category Champions will become the 9th Annual World Food Champion. Results from this finale will be revealed on television through a docu-series special called "The Final Table: Indianapolis."
For anyone looking to volunteer or attend this one-of-a-kind Food Sport experience, ticket information will be available soon, with WFC's Food Sport Nation members getting priority access.
In the meantime, follow the World Food Championships on Twitter (@WorldFoodChamp), Facebook and Instagram (@WorldFoodChampionships) for more Food Sport updates.
About the World Food Championships
The World Food Championships (WFC) is the highest stakes food competition in the world. This multi-day, live-event culinary competition showcases some of the world's best cooking masters competing for food, fame and fortune in ten categories. In 2019, more than 450 culinary teams from 11 countries and 42 American states competed in WFC's Main Event. The Ten Category champs crowned will now face-off in the $100,000 challenge that will determine the overall World Food Champion at The Final Table: Indianapolis in May 2020.
« Back to News