WFC Introduces Member-Based Program for Food Sport Enthusiasts
Share:
Posted Jan 20, 2020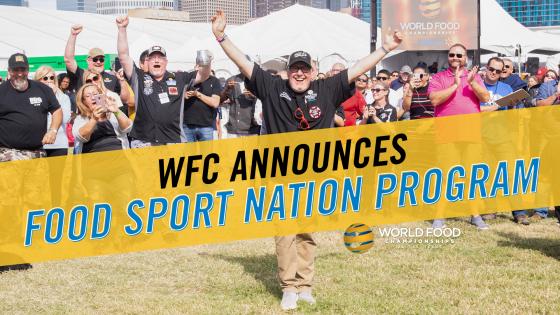 The world's largest culinary competition, World Food Championships (WFC), just announced it has developed a year-round, member-based program –– Food Sport Nation –– to offer its competitors and foodies alike insider knowledge on upcoming events, expansions, scoring insights and brand opportunities.
This online subscription will allow competitors, judges and foodies a chance to receive exclusive behind-the-scenes content, member discounts, Ambassador insights, and priority access to all WFC programming.
"We are very excited to introduce this new membership program," said Mike McCloud, CEO and President of WFC. "This is a chance for Food Sport fans to be involved year-round and take advantage of special opportunities that WFC is constantly developing."
Food Sport Nation is set to launch in February, and the membership fee will be $9.95/month. Numerous benefits will come with the Membership Gold Card, including:
Discounts:

25% off WFC Competitor Registration Fees

15% off WFC Special Events

15% off E.A.T.™ Judge Certification Classes

10% off WFC Swag

Special deals at Food Champ Restaurants

Exclusive Access:

Competitor Insights from Ambassadors and Past Champions

Q&A sessions about E.A.T.-X

Social Media Tips on building your Food Champ brand

Competitor Press Release Templates

How-To-Tips on Competing & Judging

Priority Access:

WFC Paid Opportunities (Retail, Private, Demo, Special Events)

Advance registration for WFC Judging spots

Advance access to WFC event tickets
More details on how to register for Food Sport Nation will be released soon. In the meantime, follow the World Food Championships on Twitter (@WorldFoodChamp), Facebook and Instagram (@WorldFoodChampionships) for more Food Sport updates.
About the World Food Championships
The World Food Championships (WFC) is the highest stakes food competition in the world. This multi-day, live-event culinary competition showcases some of the world's best cooking masters competing for food, fame and fortune in ten categories. In 2019, more than 450 culinary teams from 11 countries and 42 American states competed in WFC's Main Event. The Ten Category champs crowned will now face-off in the $100,000 challenge that will determine the overall World Food Champion at The Final Table: Indianapolis in May 2020.
« Back to News