The Ultimate Food Fight Brings Back Biscuits and Jampionships Challenge
Share:
Posted Jan 7, 2020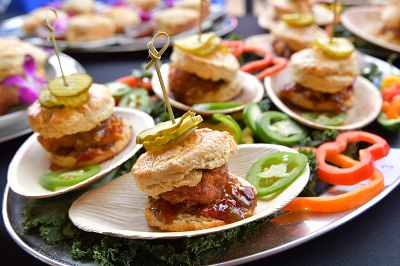 It may only be the second week of the year, but that isn't stopping the leader of Food Sport, World Food Championships (WFC), for revealing more exciting news that will sweeten the pot for its 2020 Main Event. For its ninth season, WFC will once again be partnering with the Dallas-based jam and jelly company, The Jelly Queens, to return the "Biscuits and Jampionships" ancillary competition.
"We are thrilled to be bringing back this additional contest," Mike McCloud, President/CEO of WFC. "Donna and her jelly prowess was a major hit at WFC. Our Food Champs probably had more fun competing in this challenge than any other, and I know that the judges absolutely loved scoring all the delicious entries!"
WFC will reveal more details about the 2020 ancillary competition, but in the meantime, the event recaps what happened at last year's challenge. During WFC's Dallas debut, the ten finalists competed for the inaugural Biscuits and Jampionships crown through a special jam/jelly online recipe contest that took place months prior to competition. The selected cooks recreated their recipe submissions in person at WFC for an esteemed panel of judges. The panel included well-known Food Sport competitors and past WFC Category Champions:
Nancy Manlove (WFC Ambassador)

Rebecka Evans (2017 Bacon World Champion)

Nick Rickman (2018 World Chef Champion)

Timothy Williamson

Devika Chand

Lonna Bartley

Randy White

Mike Spencer
The competition was emceed by Mark Conway of Family Meal and Memories Not Included. After tasting all ten cooks' buttery biscuits and delectable jams/jellies, the panel of judges awarded Acie Vincent (2017 World Sandwich Champion) with the first-ever Biscuits and Jampionships title. The newly crowned "jelly king" received $2,000 in cash and the honor of having his winning jam recipe reproduced by The Jelly Queens.
The other two top finishers (Sheri Valencia and Kisha Washington) were also awarded a prize pack that included cash and cases of their jam/jelly reproduced by The Jelly Queens.
"The level of talent these wonderful cooks displayed at WFC was outstanding," said Donna Collins, founder and owner of The Jelly Queens. "We are so grateful to all of our wonderful partners that made it possible and to WFC for allowing us to be part of their grand event."
The Biscuits & Jampionships sponsors included:
Stay tuned for more information about WFC's ancillary competitions. In the meantime, follow the World Food Championships on Twitter (@WorldFoodChamp), Facebook and Instagram (@WorldFoodChampionships) for more Food Sport updates.
About the World Food Championships
The World Food Championships (WFC) is the highest stakes food competition in the world. This multi-day, live-event culinary competition showcases some of the world's best cooking masters competing for food, fame and fortune in ten categories. In 2019, more than 450 culinary teams from 11 countries and 42 American states competed in WFC's Main Event. The Ten Category champs crowned will now face-off in the $100,000 challenge that will determine the overall World Food Champion at The Final Table: Indianapolis in May 2020.
###
« Back to News