WFC Adds Chef Anthony Serrano to its 2020 Ambassador Council
Share:
Posted Jan 3, 2020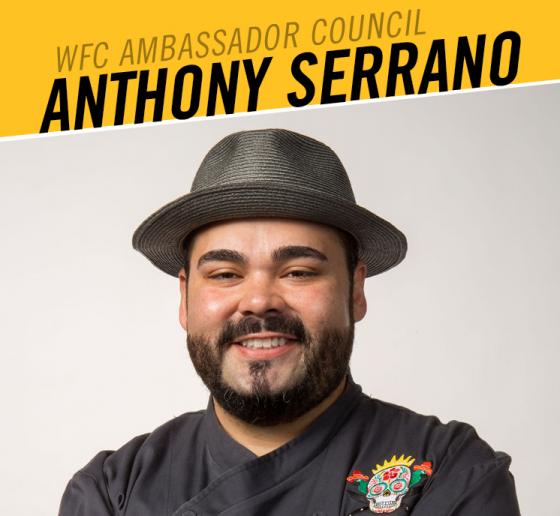 The selfless dedication of the World Food Championships' (WFC) Ambassador Council is one of the main reasons Food Sport has seen so much success over the past nine years. WFC is proud to announce that Chef Anthony Serrano will be joining the council for 2020.
Serrano will accompany this team of dedicated chefs and home cooks who work tirelessly throughout the year to make sure each WFC competition year runs smoothly. The council is responsible for shaping, implementing and interpreting all of the rules and processes in a way that improves both the tournament and #FoodSport Nation. Additionally, the Ambassadors perform other various tasks like judging online contests, answering competitors' questions through Champ Chat leading up to the Main Event in November.
As a second-generation chef/restaurateur and 2016 World Recipe Champion, Serrano is no stranger to Food Sport. He enjoys sharing his passion, knowledge and promoting brands on TV, through public events and on social media. He has also been featured on Food Network several times with his most recent appearance on Chopped (which aired in January of 2018).
Serrano is a constant professional who truly finds enjoyment and fulfillment through teaching and inspiring the average consumer to cook better while overcoming fears of cooking new and exciting dishes.
WFC is excited to have Serrano join the rest of the experienced council who (Suzanne Clark, Darci Bos, Nancy Manlove, Jason Stucki and Chad Combs)will continue to look at all angles, processes and rules of the competition to build an even bigger and better WFC in 2020.
Stay tuned for more exciting news, follow the World Food Championships on Twitter (@WorldFoodChamp), Facebook and Instagram (@WorldFoodChampionships) for more Food Sport updates.
About the World Food Championships
The World Food Championships (WFC) is the highest stakes food competition in the world. This multi-day, live-event culinary competition showcases some of the world's best cooking masters competing for food, fame and fortune in ten categories. In 2019, more than 450 culinary teams from 11 countries and 42 American states competed in WFC's Main Event. The Ten Category champs crowned will now face-off in the $100,000 challenge that will determine the overall World Food Champion at The Final Table: Indianapolis in May 2020.
« Back to News