The World Food Championships Announces 2020 Categories
Share:
Posted Jan 2, 2020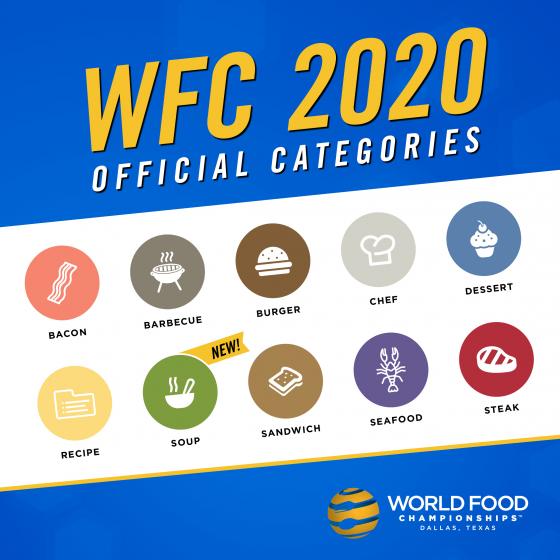 New Year. New Goals. New Food Sport Modifications? That's right! The leader in Food Sport, the World Food Championships (WFC), announced today its Official 2020 Categories for its 9th Annual Food Fight.
For the first time in its history, WFC will be dropping the Chili category and replacing it with a World Soup Championship. According to WFC officials who voted for this change, the primary objective is to allow for more creativity and innovation when it comes to liquid-based recipes.
As a natural segue for previous chili competitors, WFC will incorporate chili in either the 2020 Structured Build or Top Ten Challenges.
"Part of our perpetual mission is to be unique and compelling," commented Mike McCloud, President and CEO of WFC. "That means that we are constantly monitoring and sometimes implementing new trends that are occurring in the food space. Soup is one of those areas of interest right now, from non-GMO to ramen to bisque recipes. So for growth and innovation purposes, we believe switching from traditional chili to a more flexible soup category makes a lot of sense for Food Sport."
In addition to Soup, the remaining nine championships will include Bacon, Barbecue, Burger, Chef, Dessert, Recipe, Sandwich, Seafood and Steak. Structured Builds, Infusions and special challenges for all categories will be announced on or before July 1, 2020.
"We are excited about this year's event and the new opportunities we have implemented for talented cooks to shine on the world's largest Food Sport stage," said McCloud. "Every year our competition gets tighter and tougher, and we continue to push the envelope by adjusting components such as categories and the judging criteria to encourage cooks to bring their best to the Ultimate Food Fight."
Registration for 2019's Top Ten finishers will open January 15th, with a limited-time, early-bird discount opportunity. More details on this special will be announced on WFC' social media very soon.
Competitor registration for ALL qualified contestants will open on February 3rd. Additionally, a list of WFC 2020 Qualifying Events will be revealed in the coming weeks here.
In the meantime, follow the World Food Championships on Twitter (@WorldFoodChamp), Facebook and Instagram (@WorldFoodChampionships) for more Food Sport updates.
About the World Food Championships
The World Food Championships (WFC) is the highest stakes food competition in the world. This multi-day, live-event culinary competition showcases some of the world's best cooking masters competing for food, fame and fortune in ten categories. In 2019, more than 450 culinary teams from 11 countries and 42 American states competed in WFC's Main Event. The Ten Category champs crowned will now face-off in the $100,000 challenge that will determine the overall World Food Champion at The Final Table: Indianapolis in May 2020.
« Back to News