The World Food Championships (WFC) Announces 2020 Dates
Share:
Posted Dec 23, 2019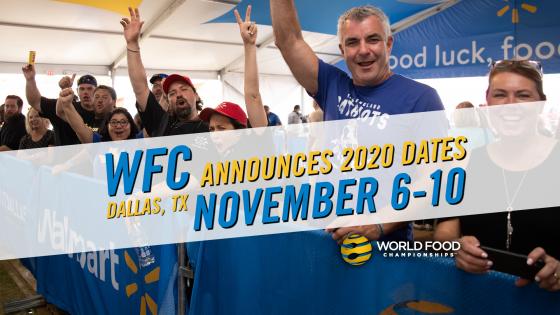 The World Food Championships (WFC) announced the official competition dates for its 2020 Main Event, along with some new strategic changes that will help improve the overall experience for competitors, sponsors and consumers of Food Sport.
The 9th Annual WFC will begin Nov. 6 and run through Nov. 10. WFC has restructured the program to better accommodate travel and lodging aspects for the 1,500+ Food Champs who already have busy calendars and work schedules. With its Opening Rounds now occurring on the weekend (instead of during the week like in years past), only the Top Ten teams will be required to stay through the duration of the tournament. Since they will be "in the hunt" for the big money at that point, the strategy is that taking a few extra days off from work won't be as tough.
"Getting a week of time off for WFC has always been a challenging aspect for our contestants, and we simply wanted to find ways to make this annual culinary quest easier and less expensive for them," said Mike McCloud, President and CEO of WFC. "By holding the Opening Rounds on the weekend, competitors now have the option to head out early if they don't advance to the Top Ten rounds. It also brings our competitors and consumer scheduling into the same time frame, which will raise visibility, interest, excitement and energy across the board."
In addition to the schedule change, WFC announced that for the first time in the tournament's history that the Main Event will be held indoors. While the official tournament venue and host hotel have not been revealed yet, McCloud gave some insight into this significant shift for the competition.
"There are numerous reasons why moving our competition indoors will help improve the overall experience for consumers and competitors," explained McCloud. "The indoor arena allows for better climate control, which will greatly improve the cooking process for many categories. Plus, eliminating weather issues will also improve our consumer/exhibitor experience in many ways. Our entire arena will now get audio/visual support, including new technical features that we simply couldn't program in an outdoor arena. This is truly an exciting moment for Food Sport."
One of the new features of the indoor arena will be a "central stage", where WFC will be able to conduct live interviews, award shows (complete with competitor "walk ups" to the podium), and fun demo-tainment moments that integrate the general audience.
"We've been aiming for this type of fully programmed, fully immersed experience for years now," McCloud commented. "Not so ironically, 2020 is the year that our vision will come into full focus."
When asked why the tournament was shifted back into November as opposed to October, McCloud noted a few things. "First, we're no longer afraid of the weather because we'll be inside. Second, we are trying to not compete with other great food events in Texas, and that particular weekend was the best option to be a good corporate citizen to the food event industry. And finally, our new and preferred venue is completely available on that weekend, which will give us tons of benefits that we didn't have in 2019. We are very excited to share those benefits soon."
More information about the indoor site will be released in the coming weeks. In the meantime, mark your calendars for WFC 2020 in Dallas, Texas. To keep up with all Food Sport news, follow WFC on Twitter (@WorldFoodChamp), Facebook and Instagram (@WorldFoodChampionships).
About the World Food Championships
The World Food Championships (WFC) is the highest stakes food competition in the world. This multi-day, live-event culinary competition showcases some of the world's best cooking masters competing for food, fame and fortune in ten categories. In 2019, a near-record number of 462 culinary teams from 11 countries and 42 American states competed in WFC's Main Event. The Ten Category champs crowned will now face-off in the $100,000 challenge that will determine the overall World Food Champion at The Final Table: Indianapolis in May 2020.
« Back to News