WFC Announces 2020 Final Table Details
Share:
Posted Dec 9, 2019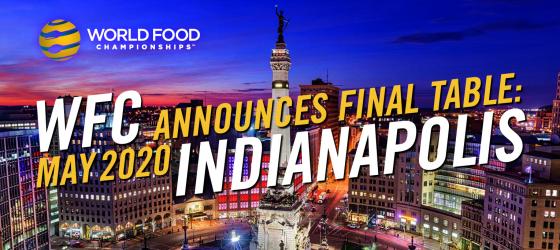 Fresh off its 8th Annual Main Event and Dallas debut, World Food Championships (WFC) is busy preparing for its crowning moment by adding in new surprises for ten award-winning Food Champs and food sport fans from around the nation. Organizers of The Ultimate Food Fight announced today more details for its Final Table challenge, which will be held in May and feature a $100,000 grand prize.
During the Main Event's opening rounds in October, Mike McCloud, CEO and President of WFC, revealed that its 8th annual Final Table challenge will be held in Indianapolis, Indiana from May 8-10th, 2020. While more details will be released at the first of the year, McCloud did tease a few exciting elements for the much-anticipated competition.
"We are really excited to be partnering with such a great culinary destination," said McCloud. "Indianapolis has always been a great supporter of Food Sport, and we can't wait for our 2019 Category Champions to see what creative culinary challenges await them in this incredible city during our upcoming $100,000 Final Table."
For the first time in its history, WFC is kicking off its grand finale with a full week of programming and new events entitled "Culinary Crossroads: Food Week" which will include celebrations devoted to highlighting Indianapolis' culinary people, places and products. The opening days of the event will also feature a Food Champ University seminar that will take an in-depth look into the world of Food Sport, including an open Q&A session about the WFC 2020 EAT-X judging process.
Key Dates for "Final Table: Indianapolis"
May 5, 6, 7 - Culinary Crossroads: Food Week / Food Champ University
May 8, 9, 10 - Final Table Competition Days
Final Table: Indianapolis will feature three rounds of challenges inspired by the host city's cuisine. Unlike last year's Final Table tournament (which held three competitions in two days), the 2019 finalists will participate in one cooking challenge per day to narrow the field down from 10 Food Champs to three contestants, one of which will be crowned the next World Food Champion. More details on the seminar days and challenges (including attendance restrictions for the final day) will be revealed in the coming weeks.
WFC's Team Indiana Coordinator and State Relations Advisor, Larry Dickerson, made it known that there is already a flurry of activity and tremendous energy surrounding WFC bringing its Final Table challenge to Indianapolis.
"Our phones are ringing and emails are coming in daily from individuals and organizations wanting to be involved with the preparation for placing Indianapolis and the entire state of Indiana on the national culinary stage," said Dickerson. "We are confident that attendees will walk away with a deep understanding of why Indiana is truly the Culinary Crossroads of America."
Mark your calendars and keep up with all WFC news by following the event on Twitter (@WorldFoodChamp), Facebook and Instagram (@WorldFoodChampionships).
About the World Food Championships
The World Food Championships (WFC) is the highest stakes food competition in the world. This multi-day, live-event culinary competition showcases some of the world's best cooking masters competing for food, fame and fortune in ten categories: Bacon, Barbecue, Burger, Chef, Chili, Dessert, Recipe, Sandwich, Seafood and Steak. In 2019, a near-record number of 462 culinary teams from 11 countries and 42 American states competed in WFC's Main Event. The Ten Category champs crowned will now face-off in the $100,000 challenge that will determine the overall World Food Champion at The Final Table: Indianapolis in May.
« Back to News