Local Community College Lends Helping Hand at WFC's Dallas Debut
Share:
Posted Dec 4, 2019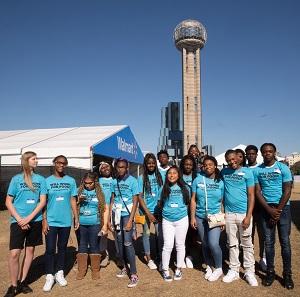 The World Food Championships (WFC) attracted more than 1,400 cooks from 42 states and 15 countries to Dallas as it searched for the best culinary athletes and artisans from around the globe. Alongside its 8th annual Main Event, tens of thousands of foodies attended the food-fighting festivities and special attractions. With a food fest of this magnitude, a lot of hard work and assistance are needed throughout the five-day event, so WFC enlisted El Centro College to fill numerous of its volunteer roles.
The Dallas-based volunteer team consisted of the El Centro College student body, faculty and surrounding area high schools to help fill positions. Volunteers worked at the event's Walmart Tasting Pavilion, Kitchen Arena back and a variety of other key areas throughout the site. El Centro's team, alone, made up almost 70 percent of WFC's volunteer shifts.
"We were thrilled to have the El Centro partner with us and help ensure that our event ran smoothly and efficiently," said Mike McCloud, President and CEO of WFC. "It takes an army of dedicated individuals to put on such a massive event, and we are extremely grateful to all of the volunteers for taking the time out of their busy schedules to lend a helping hand."
At the awards ceremony, McCloud displayed his gratitude by gifting El Centro's Director of Food and Hospitality Institute, Steve DeShazo, a set of Wüsthof knives signed by every Food Champ who performed a cooking demo on MAXimus stage and in the Walmart VIP Lounge.
El Centro College was the first college to open its doors in the Dallas district in 1966. Named after its central location in the Dallas County area, El Centro offers more than 30 certificates or degree programs, at multiple Dallas locations, that are transferable to four-year universities.
To keep up with all WFC news, follow the event on Twitter (@WorldFoodChamp), Facebook and Instagram (@WorldFoodChampionships).
About the World Food Championships
The World Food Championships (WFC) is the highest stakes food competition in the world. This multi-day, live-event culinary competition showcases some of the world's best cooking masters competing for food, fame and fortune in ten categories: Bacon, Barbecue, Burger, Chef, Chili, Dessert, Recipe, Sandwich, Seafood and Steak. In 2019, a near-record number of 462 culinary teams from 11 countries and 42 American states competed in WFC's Main Event. The Ten Category champs crowned will now face-off in the $100,000 challenge that will determine the overall World Food Champion at The Final Table: Indianapolis in May.
« Back to News