Grilling Grannies Went Head-to-Head At World's Largest Food Sport Event
Share:
Posted Dec 2, 2019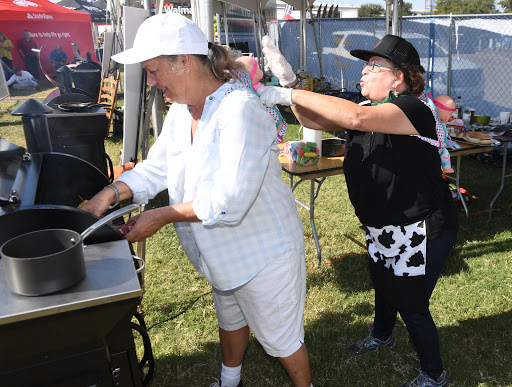 It's no secret that when it comes to simultaneously watching the children and cooking dinner, grandmas take the cake. The world's largest Food Sport event, World Food Championships (WFC), brought back one of its fan-favorite ancillary events that featured four of its granny competitors in a grilling challenge with parent-themed curveballs.
As previously seen on Delish for its 2017 debut, the Granny Grilling Challenge made its way back to The Ultimate Food Fight with new granny grillmaster contenders: Tamie "Mimi" Joeckel, "Grandma Mary" Edwards, Kathi "Grandma" Hemmer and Sharon "Gramma" Damante.
This one-of-a-kind challenge was hosted by two former Granny Champions, WFC Ambassador Nancy Manlove and 2017 Bacon World Champion Rebecka Evans. The emcees created fun obstacles throughout the competition by giving each granny a baby doll "grandkid" with challenges to burp, change and soothe during the competition.
In addition to caring for their "grandchildren," these talented grannies were faced with yet another challenge: a mystery box filled with ingredients and protein provide by Hassell Cattle Company. With no prior knowledge of what products they would be using, the grillmasters were to whip up their most creative, tasty dish using equipment provided by Z Grills to satisfy a judging panel of Dallas culinary students.
While all four grannies brought their a-game, Sharon Damante managed to impress the judges and claim the first place title making her the reigning Granny Grilling Champion!
To keep up with all WFC news, follow the event on Twitter (@WorldFoodChamp), Facebook and Instagram (@WorldFoodChampionships).
About the World Food Championships
The World Food Championships (WFC) is the highest stakes food competition in the world. This multi-day, live-event culinary competition showcases some of the world's best cooking masters competing for food, fame and fortune in ten categories: Bacon, Barbecue, Burger, Chef, Chili, Dessert, Recipe, Sandwich, Seafood and Steak. In 2019, a near-record number of 462 culinary teams from 11 countries and 42 American states competed in WFC's Main Event. The Ten Category champs crowned will now face-off in the $100,000 challenge that will determine the overall World Food Champion at The Final Table: Indianapolis in May.
« Back to News