World Food Championships Partnering with Boulevard Brewing Co.
Share:
Posted Sep 16, 2019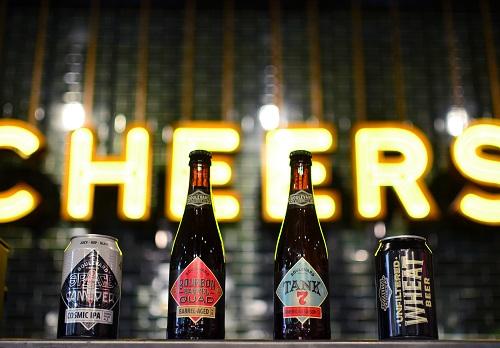 The World Food Championships (WFC) is proud to announce Boulevard Brewing Company as the official Food Sport sponsor of Ultimate Food Fights. Boulevard will offer an array of exceptional beers to competitors and attendees alike across all World Food Championship events and at on-site concessions on October 18 – 20, 2019.
Boulevard will add another "B" to WFC's bourbon and barbecue event, Bourb'N'Que, with its Smokestack Series Bourbon Barrel Quad, available on the sampling menu. This event, celebrating all-American flavors, features five premium bourbons and delicious ribs prepared by the best pitmasters in the country.
Boulevard's iconic Tank 7 American Saison, their twist on a classic Belgian-style farmhouse ale, will be featured as the official beer partner in The Grand Tasting, WFC's progressive sampling event. With fruity aromatics and hoppy, grapefruit notes, the beer pairs beautifully with sauce-based dishes, herb-roasted chicken, pork or fish, making it the beer of choice during WFC's Grand Tasting. At this inaugural event, guests will receive an exclusive opportunity to sample delectable dishes from Food Sport Champions.
Boulevard's best-selling Unfiltered Wheat and their new Space Camper Cosmic IPA are just two of the beers that will be available to event attendees. Unfiltered Wheat is a lively, easy drinking, American-style wheat beer with a natural citrusy flavor. Space Camper Cosmic IPA bursts with juicy tropical fruit flavors and aromas of nectar and citrus.
WFC's 8th Annual Main Event is scheduled for October 16 – 20, 2019, at Reunion Tower Lawn in Dallas, Texas. To keep up with all WFC news, follow the event on Twitter (@WorldFoodChamp) and Facebook and Instagram (@WorldFoodChampionships). Click here to book your room for #WFC2019.
ABOUT WORLD FOOD CHAMPIONSHIPS
The World Food Championships (WFC) is the highest stakes food competition in the world. This multi-day live-event culinary competition showcases some of the world's best cooking masters competing for food, fame and fortune in ten categories: Bacon, Barbecue, Burger, Chef, Chili, Dessert, Recipe, Sandwich, Seafood and Steak. In 2018, over 1,500 contestants on nearly 500 official teams from 42 American states and 12 countries competed. More than 20 million people have attended WFC or have seen it on national TV over the past seven years.
ABOUT BOULEVARD BREWING COMPANY
Boulevard Brewing Company is the largest specialty brewer in the Midwest, dedicated to the craft of producing fresh, flavorful beers using traditional ingredients and the best of both old and new brewing techniques. For more information, visit boulevard.com or follow us on facebook.com/Boulevard, twitter.com/Boulevard_Beer and instagram.com/boulevard_beer.
« Back to News