BSB-Brown Sugar Bourbon Joins Food Sport As Official Bourbon
Share:
Posted Sep 12, 2019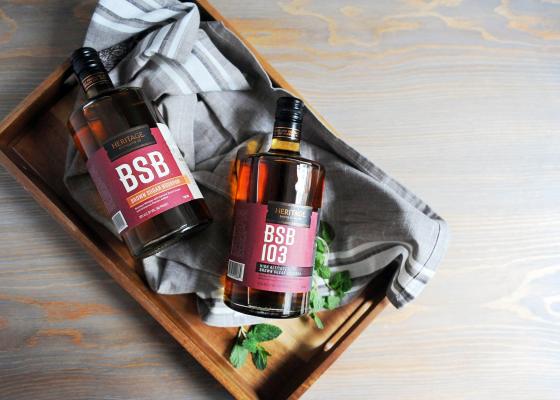 The World Food Championships' (WFC) Dessert Category won't be the only sweet treat available at its Main Event at Reunion Tower Lawn in Dallas, Texas, this October. The world's largest Food Sport event announced today that BSB-Brown Sugar Bourbon has joined the party in a serious way — as WFC's Official Bourbon.
BSB-Brown Sugar Bourbon will be integrated into the Main Event in several strategic offerings, for both consumers and competitors. First, it will be offered to Food Champs as one of WFC's newest Bonus Bucks programs. This opportunity allows cooks the option of incorporating sponsor-provided products and ingredients into their recipes for a chance to take home some extra cash outside of the main category prizes. All Kitchen Arena competitors are eligible to participate in this program and possibly win an extra $1,000 by infusing BSB into their Signature Round dish. (For BSB Bonus Bucks details, view the updated 2019 Kitchen Arena Competitor Packet).
BSB is produced by Heritage Distilling Company (HDC), the most-awarded craft distillery in North America and has been named World's Best Flavoured Whisky 2 years in a row by the World Whiskies Awards put on by Whisky Magazine (2018 & 2019). The company has received this honor six years in a row from the American Distilling Institute. HDC makes vodka, gin and whiskey. The company proudly operates distillery tasting rooms in Gig Harbor, Roslyn and Seattle, Washington and Eugene, Oregon.
As the Official Bourbon of WFC, BSB's samples will be available to consumers throughout the five-day tournament week, specifically at The Grand Tasting and BourbNQue events, where the bourbon will be perfectly paired with mouth-watering, award-winning food.
"We are thrilled to have Brown Sugar Bourbon involved in Food Sport and WFC," said Mike McCloud, president and CEO. "With the company being awarded best distillery in North America for six years in a row, we can't wait to pair up this incredible brand with all of our award-winning dishes throughout the many food attractions at WFC."
To learn more about BSB-Brown Sugar Bourbon, click here.
WFC's 8th Annual Main Event is scheduled for October 16 – 20, 2019, at Reunion Tower Lawn in Dallas, Texas. To keep up with all WFC news, follow the event on Twitter (@WorldFoodChamp), Facebook and Instagram (@WorldFoodChampionships).Click here to book your room for #WFC2019.
About the World Food Championships
The World Food Championships (WFC) is the highest stakes food competition in the world. This multi-day, live-event culinary competition showcases some of the world's best cooking masters competing for food, fame and fortune in ten categories: Bacon, Barbecue, Burger, Chef, Chili, Dessert, Recipe, Sandwich, Seafood and Steak. In 2018, over 1,500 contestants on nearly 500 official teams from 42 American states and 12 countries competed. More than 20 million people have attended WFC or have seen it on national TV over the past seven years. This year's Main Event will be held in Dallas, Texas at Reunion Tower Lawn, Oct. 16-20.
About BSB-Brown Sugar Bourbon
BSB-Brown Sugar Bourbon (BSB) and BSB 103, the 103 proof version of the product are produced by Heritage Distilling Company, Inc. (HDC). BSB and BSB 103 have received an unprecedented amount of awards including BSB being named World's Best Flavoured Whisky 2 years in a row by the World Whiskies Awards put on by the prestigious Whisky Magazine. BSB is distributed nationwide by Southern Glazer's Wine & Spirits and other distribution partners and is available at retailers, bars and restaurants. BSB can be found online at www.brownsugarbourbon.com and on social media @brownsugarbourbon.
« Back to News