El Centro College is Serving Up Volunteers for the Ultimate Food Fight
Share:
Posted Aug 29, 2019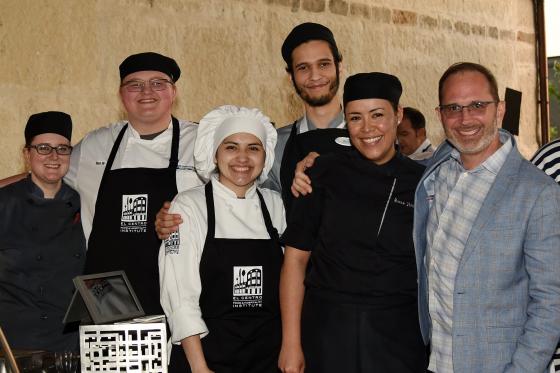 The largest Food Sport competition, the World Food Championships (WFC), requires an "all hands on deck" strategy to ensure that its Main Event runs smoothly and effectively. For this year's Ultimate Food Fight, WFC has partnered with El Centro College to help make sure the food fighting action stays under control by filling 400 volunteer positions.
The Dallas-based college volunteer team for WFC's Main Event in Dallas will consist of the El Centro student body, faculty, and surrounding area high schools. Culinary programs are also encouraged to participate in additional volunteer opportunities at WFC.
"We want to do everything in our power to make sure both attendees and cooks are having the best experience possible at WFC," said Mike McCloud, CEO and President of WFC. "The help we are receiving from El Centro College is going to be an essential part of making sure this year's event is another success."
El Centro College was the first college to open its doors in the Dallas district in 1966. Named after its central location in the Dallas County area, El Centro offers more than 30 certificates or degree programs, at multiple Dallas locations, that are transferable to four-year universities.
WFC volunteers hold various positions throughout the championships including various shifts for pre, during, and post events and attractions. Anyone interested can start as early as October 13. Individuals who complete a volunteer shift at the Ultimate Food Fight will receive perks for lending a helping hand. Volunteer benefits include a·FREE souvenir T-shirt and two free passes to WFC (for access during a non-volunteer day).
To learn more about WFC's volunteer opportunities or sign up, click here.
WFC's 8th Annual Main Event is scheduled for October 16 – 20, 2019, at Reunion Tower Lawn in Dallas, Texas. To keep up with all WFC news, follow the event on Twitter (@WorldFoodChamp), Facebook and Instagram (@WorldFoodChampionships). Click here to book your room for #WFC2019.
About the World Food Championships
The World Food Championships (WFC) is the highest stakes food competition in the world. This multi-day, live-event culinary competition showcases some of the world's best cooking masters competing for food, fame and fortune in ten categories: Bacon, Barbecue, Burger, Chef, Chili, Dessert, Recipe, Sandwich, Seafood and Steak. In 2018, over 1,500 contestants on nearly 500 official teams from 42 American states and 12 countries competed. More than 20 million people have attended WFC or have seen it on national TV over the past seven years. This year's Main Event will be held in Dallas, Texas at Reunion Tower Lawn, Oct. 16-20.
###
« Back to News