Walmart Expands Its Presenting Sponsor Role At World Food Championships
Share:
Posted Aug 29, 2019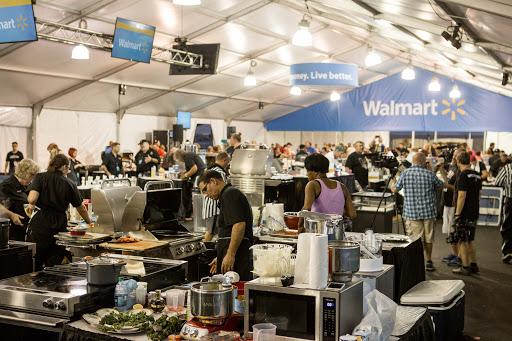 Walmart, the world's largest grocery retailer, is returning to the Ultimate Food Fight and expanding its role as the Official Retailer and Presenting Sponsor of the 2019 World Food Championships (WFC).
As the largest "food sport" competition in the world, WFC pits home cooks versus pro chefs in a multi-day, tournament-style culinary showcase that features a $350,000 prize purse and championship titles in ten categories: Bacon, Barbecue, Burger, Chef, Chili, Dessert, Recipe, Sandwich, Seafood and Steak.
In 2018, Walmart joined forces with WFC to help elevate cooks and chefs from around the world, while also demonstrating the quality, fresh products available every day at its retail stores.
"We are thrilled to partner with Walmart to expand food sport, elevate food champions and feature great food brands in our annual quest to celebrate culinary talent," said Mike McCloud, President and CEO of WFC. "Last year, Walmart helped us expand our event's offerings, while also providing a retail and merchandising opportunity to our many competitors and featured brands."
With its recent move to Dallas, Texas, WFC's most popular consumer attraction, the Walmart Tasting Pavilion, is set to double in size for 2019. Featuring up to 50 local, regional and national brands, the Tasting Pavilion is a foodies' ultimate sampling smorgasbord. This year's offerings will include morsels and flavors that range from Texas Sweet Heat salsa to decadent Sweetie's cheesecakes.
The Walmart DJ's are also returning to the food fight to cover and explain all of the Food Sport action as it unfolds during the five-day tournament. The dynamic duo will also assist in the crowning of the WFC's 2019 champions by serving as emcees of the event's two nightly awards programs.
As a strategic partner to the WFC enterprise, Walmart will also be expanding its Chef Demo program in Neighborhood Markets by welcoming up to 100 Food Champs into its retail strategy. This program will involve almost 1,000 in-store demos in 20 of America's largest cities while featuring a mobile kitchen that will travel the country before arriving at WFC's main event in Dallas.
"Our in-store Walmart Chef program has been redefining the in-store, free sampling experience with easy, exciting recipes and cooking tips from our champions," said McCloud. "By expanding the program in both scope and scale, retail shoppers will get an elevated experience at their local Walmart Neighborhood Store while also learning more about the awesome Food Champs in our industry."
To find out more about the Walmart Chef Program, click here.
Additional promotions at this year's event courtesy of Walmart include a Rookie of the Year Award for the head cooks, as well as a Spark Award for the competitor who shows the most passion and positive energy during the tournament. A Supplier of the Year Award will also be awarded to the biggest Food Sport partner at WFC. All of these winners will be determined by WFC's Ambassadors and recognized during the award programs.
The main event is scheduled for October 16 – 20, 2019, at Reunion Tower Lawn in Dallas, Texas. To keep up with all WFC news, follow World Food Championships on Twitter (@WorldFoodChamp), and Facebook or Instagram (@WorldFoodChampionships). Click here to book your room for #WFC2019.
About the World Food Championships
The World Food Championships (WFC) is the highest stakes food competition in the world. This multi-day, tournament-style culinary competition showcases some of the world's best cooking masters competing for food, fame and fortune in ten categories: Bacon, Barbecue, Burger, Chef, Chili, Dessert, Recipe, Sandwich, Seafood and Steak. In 2018, over 1,500 contestants on nearly 500 official teams from 42 American states and 12 countries competed. More than 20 million people have attended WFC or have seen it on national TV over the past seven years. The WFC main event will be held in Dallas, Texas, Oct. 16-20, 2019.
« Back to News