World Food Championships Brews Big Things with its Newest Food Sport Sponsor
Share:
Posted Aug 14, 2019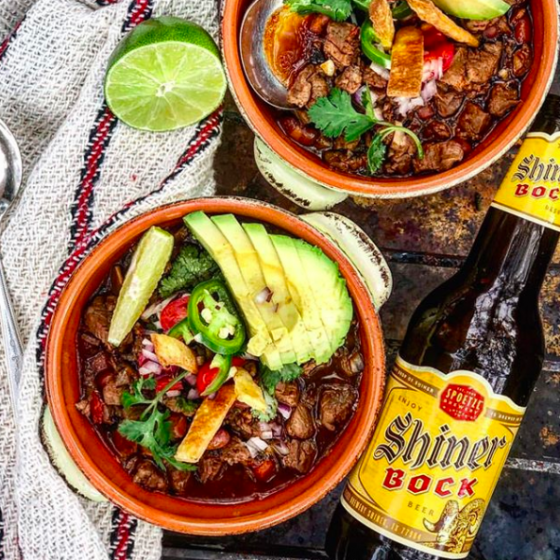 The World Food Championships' (WFC) Chili competitors will be battling it out to see which dish will out-shine the others thanks to its newest sponsor, Shiner Beer. As the presenting sponsor of the World Open Chili Championships, the Texas-based company will be a key ingredient in the competition's Top 10 Round to see which cook goes home with the $10,000 category prize purse.
Since 1909, Shiner has been brewing their beer at Spoetzl brewery in Shiner, Texas. The company features a wide selection of hand-crafted brews from its Wicked Juicy IPA to its classic Shiner Bock beer.
"We are so excited to be in Dallas for this year's food fight and looking forward to featuring as many Texas-based companies as possible throughout our event," said Mike McCloud, President and CEO of WFC. "I know our Food Champs will be delighted to get their hands on Shiner Beers to create some truly prize-worthy and tasty dishes."
Chili competitors who make it to the final round of competition will be required to create a dish using Shiner Beer. The cooks have free-range of how they choose to incorporate the beer into their Top 10 recipe. Shiner Beer will be providing cooks with the following flavors to infuse into their dish: Shiner Bock, Shiner Light Blonde, Shiner Wicked Juicy IPA and Shiner Black Lager.
In addition to providing these world-class competitors with its signature products, WFC foodies will have the opportunity to taste Shiner Beers in the event's Walmart VIP Lounge.
To purchase a VIP Lounge Day Pass, click here.
To purchase a VIP Lounge Weekend Pass, click here.
Learn more about Shiner Beer, by visiting www.shiner.com
Keep up with all WFC news, by following the World Food Championships on Twitter (@WorldFoodChamp), and Facebook or Instagram(@WorldFoodChampionships).
Click here to book your room for #WFC2019.
About Shiner and the Spoetzl Brewery
The Spoetzl Brewery was founded in Shiner, Texas (population 2,069), in 1909, brewing beer with old-world traditions and recipes for the many German and Czech settlers in Central Texas. Since then, the brewery has grown to be one of the largest independent craft brewers in the country, available in 49 states and Mexico. But every drop of our award-winning beer is still brewed right where it all started 110 years ago. Visit us at www.shiner.com or follow us onInstagram and Facebook.
About the World Food Championships
The World Food Championships (WFC) is the highest stakes food competition in the world. This multi-day, live-event culinary competition showcases some of the world's best cooking masters competing for food, fame and fortune in ten categories: Bacon, Barbecue, Burger, Chef, Chili, Dessert, Recipe, Sandwich, Seafood and Steak. In 2018, over 1,500 contestants on nearly 500 official teams from 42 American states and 12 countries competed. More than 20 million people have attended WFC or have seen it on national TV over the past seven years. This year's Main Event will be held in Dallas, Texas at Reunion Tower Lawn, Oct. 16-20.
« Back to News