Cattle Dog Coffee Roasters Grinds Up A New Ancillary for World Food Championships' Barbecue Competitors
Share:
Posted Aug 2, 2019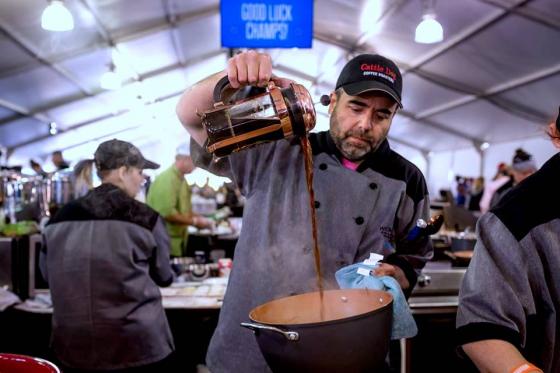 The World Food Championships (WFC) enjoys giving its competitors extra opportunities to take home prize money outside of the Main Event's $350,000 prize purse. This year, WFC has partnered with Cattle Dog Coffee Roasters to challenge Barbecue competitiors with a unique "cooking with coffee" ancillary competition set to be held at 9 a.m. October 17 in WFC's Barbecue Zone.
Barbecue ancillary participants will create the tastiest dish they can dream up, using any protein of their choice and Cattle Dog Guatemala Whole Bean coffee. Competitors will be given the selection of both light and dark roast to incorporate into their recipe. Cattle Dog Coffee Roasters will supply each team with a 12-ounce bag, but how it will be used is up to each individual's culinary imagination.
The prizes up for grabs are
1st Place: $300

2nd Place: $200

3rd Place: $100
The Cattle Dog team sources beans from a female-owned and operated farm, Two Birds Coffee, that has been in business over 100 years. Imported from Guatemala, these delicious beans go through cutting edge processing methods. The farm not only cares about the conservation of the land but also the families that live there and work by improving infrastructures, offering technical training and awarding scholarships.
This ancillary contest will be one of the many attractions on the main grid during WFC's event in Dallas. Anyone who purchases a General Admission's ticket to WFC (here) will be able to attend and enjoy a "latte" of action!
Barbecue competitors wishing to participate in this ancillary should visit the "Ancillary" section of the their competitor packet (click here) for more details.
"Cattle Dog Coffee is going to be a great asset to the WFC 2019 sponsor lineup especially with the interesting ancillary they are presenting," said Mike McCloud, President and CEO of WFC. "We truly can't wait to see all the creative caffeine-filled creation that comes from this event."
In addition to providing champs with a creative culinary challenge, Cattle Dog Coffee can be found in Walmart's Tasting Pavilion showing off all their delicious bold flavors at WFC! Stop by and check out everything they have to offer from K-Cups, tea and even specialty flavored beans.
To keep up with all WFC news, follow World Food Championships on Twitter (@WorldFoodChamp), and Facebook or Instagram (@WorldFoodChampionships). Click here to book your room for #WFC2019.
About the World Food Championships
The World Food Championships (WFC) is the highest stakes food competition in the world. This multi-day, live-event culinary competition showcases some of the world's best cooking masters competing for food, fame and fortune in ten categories: Bacon, Barbecue, Burger, Chef, Chili, Dessert, Recipe, Sandwich, Seafood and Steak. In 2018, over 1,500 contestants on nearly 500 official teams from 42 American states and 12 countries competed. More than 20 million people have attended WFC or have seen it on national TV over the past seven years. This year's Main Event will be held in Dallas, Texas at Reunion Tower Lawn, Oct. 16-20.
« Back to News