Hassell Cattle Company Makes a "Steak"ment at its World Food Championships Debut!
Share:
Posted Aug 1, 2019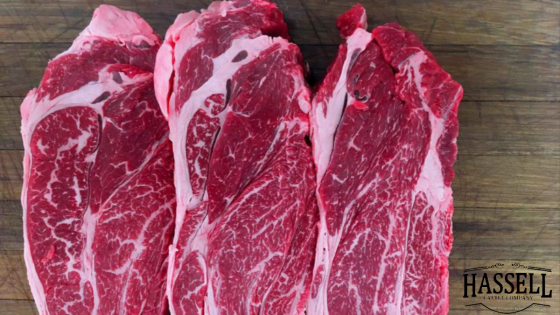 DALLAS, Texas.,–– At this year's World Food Championships (WFC), grillmasters will have a hassle-free experience picking out the perfect steaks to use thanks to Hassell Cattle Company. WFC's new Food Sport sponsor will be making a "sear"ious debut in Dallas, Texas, this October as the presenting sponsor of the World Steak Championship.
The company, based in Rusk, Texas, will be providing its Wagyu Ribeye steaks for WFC's steak competitors to use in the Opening Rounds of the competition. The grillmasters who manage to advance to the Top 10 Round will be challenged to craft a $10,000 winning steak using Hassell Cattle Company's Tomahawks.
"We are so ecstatic to have a premium brand like Hassell Cattle Company provide their high-quality products for our Food Champs to use as they create their award-wishing dishes," said Mike McCloud, President and CEO of WFC.
Throughout the five-day tournament, Hassell Cattle Company will be educating Food Fans and competitors on their high-quality products through live cooking demos on WFC's Main Stage, Maximus and in the VIP Lounge.
To learn more about Hassell Cattle Company, visit https://hassellcattlecompany.com/.
To keep up with all WFC news, follow World Food Championships on Twitter (@WorldFoodChamp), and Facebook or Instagram(@WorldFoodChampionships). Click here to book your room for #WFC2019.
About the World Food Championships
The World Food Championships (WFC) is the highest stakes food competition in the world. This multi-day, live-event culinary competition showcases some of the world's best cooking masters competing for food, fame and fortune in ten categories: Bacon, Barbecue, Burger, Chef, Chili, Dessert, Recipe, Sandwich, Seafood and Steak. In 2018, over 1,500 contestants on nearly 500 official teams from 42 American states and 12 countries competed. More than 20 million people have attended WFC or have seen it on national TV over the past seven years. This year's Main Event will be held in Dallas, Texas at Reunion Tower Lawn, Oct. 16-20.
« Back to News