WFC Release its 2019 Competitor Packets
Share:
Posted Aug 1, 2019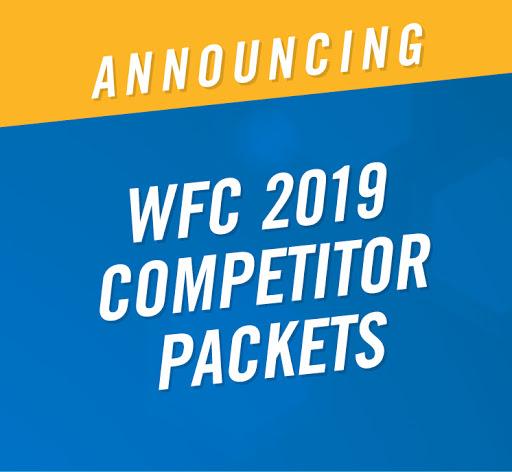 The World Food Championships (WFC) is just two months away from kicking off the largest Food Sport competition in the world! To help chefs and cooks from all around the globe prepare to battle it out for over $350,000 in cash and prizes in Dallas, Texas this October, WFC has released its 2019 Competitor Packets.
WFC's Competitor Packets will be the Food Champs' go-to guide for the entire five-day tournament. Competitors are highly encouraged to thoroughly read through the packet to make sure they are informed on all requirements and deadlines. With the big move to Dallas and the event date moving up a month from last year, WFC has added several updates to the 2019 competition format and criteria. One notable addition to this year's competitor packets includes the recipe deadline, which has a points deduction rule for late submissions.
"This year will be our biggest competition to date," said Mike McCloud, President and CEO of WFC. "We've added more ancillaries than ever before and have also made some necessary additions to improve the overall flow of our competition. Preparation has always been a crucial component for the Ultimate Food Fight and for this reason, we can not stress enough to competitors to read, and re-read their packets."
Click here to download WFC's Official 2019 Competitor Packets.
Tune into the World Food Championships' Champ Chat on Friday at 4 p.m. CDT for a quick Q&A Live with WFC's Ambassador Suzanne Clark.
To keep up with all WFC news, follow World Food Championships on Twitter (@WorldFoodChamp), and Facebook or Instagram (@WorldFoodChampionships). Click here to book your room for #WFC2019.
About the World Food Championships
The World Food Championships (WFC) is the highest stakes food competition in the world. This multi-day, live-event culinary competition showcases some of the world's best cooking masters competing for food, fame and fortune in ten categories: Bacon, Barbecue, Burger, Chef, Chili, Dessert, Recipe, Sandwich, Seafood and Steak. In 2018, over 1,500 contestants on nearly 500 official teams from 42 American states and 12 countries competed. More than 20 million people have attended WFC or have seen it on national TV over the past seven years. This year's Main Event will be held in Dallas, Texas at Reunion Tower Lawn, Oct. 16-20.
« Back to News