Team Cookeville is Competing at the World's Largest Culinary Competition
Share:
Posted Jul 22, 2019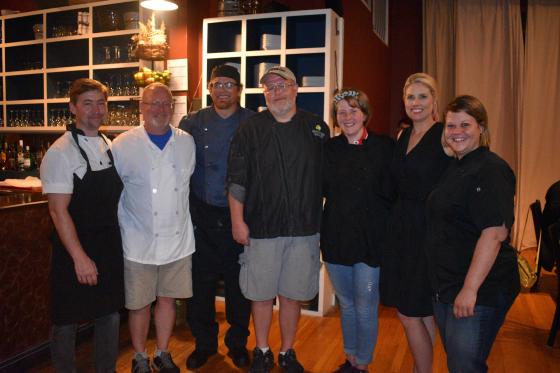 The World Food Championships (WFC) is the largest culinary competition in the world designed to help elevate cooks from all walks of life and background. Amongst the field of over 1,500 cooks who will travel to WFC for their chance at food, fortune and fame will be six local chefs and cooks representing "Team Cookeville."
WFC was founded by Cookeville native and entrepreneur, Mike McCloud of MMA Creative. Since its inception in 2012, WFC has given birth to 30 TV food stars and awarded more than $2 million in prize money. The 8th annual championships is on track to be WFC's biggest event to date this October in Dallas Texas.
Several local chefs won their Golden Tickets through a variety of WFC qualifying events throughout the area to secure their spot to compete at the larger-than-life culinary competition. From a winning a WFC E.A.T.™ Class showdown to taking a prize-winning finish in the largest online qualifier–– the Taste of America Challenge, these local chefs proved they have what it takes to compete against the best in the world.
The Team Cookeville roster includes:
With the hardest part (qualifying) behind them, Team Cookeville is now focusing on preparing for travel and expenses to WFC's host city, Dallas, Texas, in October. The group hopes (through various fundraising events) they will be able to meet their $8,000 goal to be able to compete at WFC's Main Event.
The team kicked off their first fundraising event last Monday, July 15, at The Putnam Room in downtown Cookeville. Team Cookeville's Pasta Dinner Fundraiser featured homemade pasta such as Fettuccini, Ravioli, Pepperdelle and Gnocchi. Co-owner/ head chef of The Putnam Room and WFC Ambassador, Chad Combs, assisted the group with the organization of the fundraiser, creation and plating of the chef's tasty recipes.
"All of the Team Cookeville chefs are familiar with each other, and it was really awesome to see them all work together," said Combs. "In the Chef world, you try to out beat your opponent. But here, you could see that even though everyone was putting their own spin by plating up their dishes, there was an awesome, encouraging environment that unfolded."
Team Cookeville's first event had a great turn-out with 45 attendees showing up to taste the Food Champs' pasta dishes and support them in their Food Sport endeavors. Amongst the group of supporters was WFC's own Mike McCloud who addressed the crowd thanking everyone who came to help the event's home base make it to Dallas. The team raised over $1,000 for the night's festivities.
Local foodies and Food Sport fans can support Team Cookeville at one of their upcoming fundraisers or donate directly on their Go Fund Me Page (here):
Beer, Bourbon & BBQ

This tasting will feature Cookeville breweries, Tennessee-made bourbon and non-traditional BBQ.

August 3

5:00 p.m. - 8:00 p.m.

$25.00 per person
Team Cookeville will have a Lemonade Mocktail (non-alcoholic) booth with the help of Cookeville High School students.

September 6 - 7

Team Cookeville will be selling charcuterie boards (featuring cheeses, meats and grapes) at this 9th Annual Cookeville event.

August 10

6:00 p.m. - 10 p.m.
To keep up with all WFC news, follow World Food Championships on Twitter
(@WorldFoodChamp), and Facebook or Instagram (@WorldFoodChampionships). Click here tobook your room for #WFC2019.
About the World Food Championships
The World Food Championships (WFC) is the highest stakes food competition in the world. This multi-day, live-event culinary competition showcases some of the world's best cooking masters competing for food, fame and fortune in ten categories: Bacon, Barbecue, Burger, Chef, Chili, Dessert, Recipe, Sandwich, Seafood and Steak. In 2018, over 1,500 contestants on nearly 500 official teams from 42 American states and 12 countries competed. More than 20 million people have attended WFC or have seen it on national TV over the past seven years. This year's Main Event will be held in Dallas, Texas at Reunion Tower Lawn, Oct. 16-20.
###
« Back to News