WFC's Welcome Reception to be held at Dallas Historic Event Space
Share:
Posted Jul 17, 2019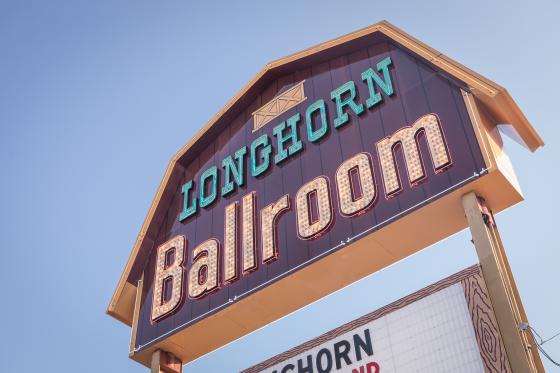 It has hosted Willie, Merle, Loretta and even the Sex Pistols. And now, it's honky-tonk history will include the Food Champs.
The World Food Championships (WFC) announced that it has selected the location of its annual Welcome Reception to kick-off the five-day food fight in Dallas, Texas this October. The Longhorn Ballroom will serve as WFC's host for the event's competitors, judges and sponsors from around the globe to gather for WFC's official welcome reception.
The Longhorn Ballroom is a sprawling property that's connected to the Santa Fe TrestleTrail and Trinity River. The event space accommodates up to 2,550 people. Built-in 1950 by Dallas millionaire O.L. Nelms as Bob Wills' Ranch House as a gift to his close friend and Western swing bandleader Bob Wills, the Longhorn Ballroom is a premier venue for special events and live music concerts. This unique space has a rich music history, while dozens of music legends have graced its stage since its humble beginnings, including Willie Nelson, Selena, Merle Haggard, Loretta Lynn, B.B. King, Al Green, James Brown, The Ramones and more.
"We at the Longhorn Ballroom look forward to giving the culinary elite of the World Food Championship a warm Texas welcome," said Jay LaFrance, owner of Longhorn Ballroom.
When selecting the best venue to embrace Food Sport competitors in WFC's new host city, President and CEO Mike McCloud wanted a place that embodied the spirit of Dallas.
"The Longhorn Ballroom is a remarkable establishment that truly reflects the heart and soul of Dallas," said McCloud. "With its rich history and breath-taking southwestern architecture, I knew it would be an awesome site for our champs and Food Sport sponsors to assemble for the first time during WFC."
WFC's Welcome Reception is set to be held Wednesday, October 16, 7 p.m. - 9 p.m. This is a private event for WFC competitors, judges and sponsors to mix and mingle before the heat of competition kicks-off. WFC's official band, Rolling Smoke, will be the featured entertainment for the night. Shuttles to and from Longhorn will be available for easy and safe party access for anyone staying at WFC's official hotel, Hyatt Regency Dallas.
WFC's 8th Annual Main Event is scheduled for October 16 – 20, 2019, at Reunion Tower Lawn in Dallas, Texas. To keep up with all WFC news, follow the event on Twitter (@WorldFoodChamp), Facebook and Instagram (@WorldFoodChampionships). Click here to book your room for #WFC2019.
About the World Food Championships
The World Food Championships (WFC) is the highest stakes food competition in the world. This multi-day, live-event culinary competition showcases some of the world's best cooking masters competing for food, fame and fortune in ten categories: Bacon, Barbecue, Burger, Chef, Chili, Dessert, Recipe, Sandwich, Seafood and Steak. In 2018, over 1,500 contestants on nearly 500 official teams from 42 American states and 12 countries competed. More than 20 million people have attended WFC or have seen it on national TV over the past seven years. This year's Main Event will be held in Dallas, Texas at Reunion Tower Lawn, Oct. 16-20.
« Back to News