2019 Tournament Chart for World Food Championships Is Revealed
Share:
Posted Jul 1, 2019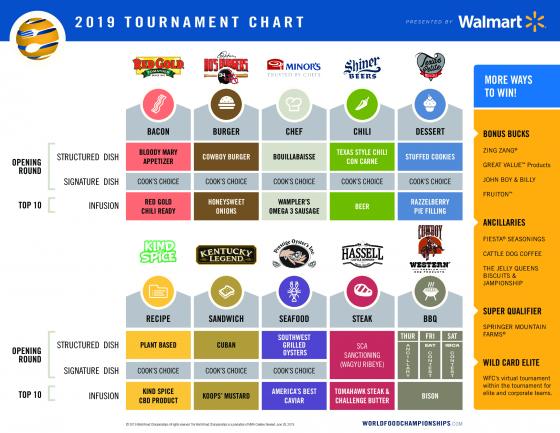 UPDATED (7.26.19) The World Food Championships (WFC) just released its 2019 Main Event Tournament Chart, one of its most anticipated competition announcements annually. This overview chart is a helpful snapshot of all the key required ingredients and category sponsors for WFC's 8th annual championship, which will debut in Dallas this October.
"We are very excited about this year's Tournament Chart for WFC 2019," said Mike McCloud, President/CEO of WFC. "As we prepared for our big debut in Dallas, we worked with existing and new partners to develop a wide spectrum of innovative products and challenges. To have infusions like CBD, caviar, wagyu, and bison for the first time is quite innovative and remarkable for one event."
The five-day Food Sport tournament is on the path for a record-breaking year, with over half of its ten official categories already over capacity. For 2019, WFC has also increased the number of ancillary competitions to give Food Champs additional opportunities to win extra cash during the Main Event.

The required products and ingredients behind the tournament's dishes have been revealed with an easy-reference infographic (see below). For additional insight on each category's requirements and more information about ways to win at WFC, click here. More info on each Infusion and individual product requirements will also be released in the annual Competitor's Packet in August.
Click here for a printable version of the 2019 Tournament Chart.
WFC's 8th Annual Main Event is scheduled for October 16 – 20, 2019, at Reunion Tower Lawn in Dallas, Texas. To keep up with all WFC news, follow the event on Twitter (@WorldFoodChamp), Facebook and Instagram (@WorldFoodChampionships). Click here to book your room for #WFC2019.
About the World Food Championships
The World Food Championships (WFC) is the highest stakes food competition in the world. This multi-day, live-event culinary competition showcases some of the world's best cooking masters competing for food, fame and fortune in ten categories: Bacon, Barbecue, Burger, Chef, Chili, Dessert, Recipe, Sandwich, Seafood and Steak. In 2018, over 1,500 contestants on nearly 500 official teams from 42 American states and 12 countries competed. More than 20 million people have attended WFC or have seen it on national TV over the past seven years. This year's Main Event will be held in Dallas, Texas at Reunion Tower Lawn, Oct. 16-20.
« Back to News