Challenge Butter Raises the "Steaks" at the 2019 World Food Championships
Share:
Posted Jun 3, 2019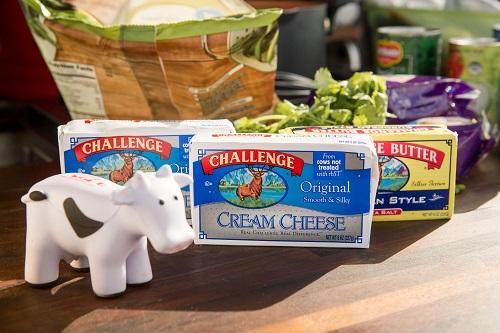 The World Food Championships (WFC) welcomes back one of its longest-standing and dedicated Food Sport sponsors, Challenge Butter, as the Official Butter of its 8th Anniversary Main Event this October in Dallas, Texas at Reunion Tower Lawn.
World-class recipes deserve award-winning ingredients. Recently selected as the top unsalted butter in the country by the culinary experts at Cook's Illustrated magazine, Challenge Butter will be used throughout the competition as well as in the World Steak Championships' Top Ten round as the Official Infusion ingredient.
Ever passionate about supporting events that celebrate great food and zealous competitors, Challenge Butter has been a proud sponsor of the World Food Championships since 2013.
"We are so happy to have our good friends at Challenge Butter return for another year of competition," said Mike McCloud, President and CEO of WFC. "Great ingredients like Challenge is what helps our competitors create some of the most impressive dishes in the world."
A dairy cooperative of more than 400 family-owned dairies, Challenge Butter has been dedicated to providing the freshest and highest quality butter for more than 100 years. Given the World Food Championships is a crucial time to have only the best ingredients in a world-class dish, Challenge Butter is proud to offer the world's best culinary champs the best butter for the job.
"We've enjoyed being a part of WFC's growth over the years and look forward to taking part in the debut this great culinary event in Dallas," said Tim Anderson, SVP of Retail and Foodservice at Challenge Dairy Products, Inc. "Food Sport competitors know that quality ingredients can make or break their dish in competition and Challenge is humbled to help support this talented field of cooks for another year."
For more information about Challenge Butter, visit www.challengedairy.com or www.facebook.com/challengebutter.
WFC's 8th Annual Main Event is scheduled for October 16 – 20, 2019, at Reunion Tower Lawn in Dallas, Texas. To keep up with all WFC news, follow the event on Twitter (@WorldFoodChamp), Facebook and Instagram (@WorldFoodChampionships). Click here to book your room for #WFC2019.
About the World Food Championships
The World Food Championships (WFC) is the highest stakes food competition in the world. This multi-day, live-event culinary competition showcases some of the world's best cooking masters competing for food, fame and fortune in ten categories: Bacon, Barbecue, Burger, Chef, Chili, Dessert, Recipe, Sandwich, Seafood and Steak. In 2018, over 1,500 contestants on nearly 500 official teams from 42 American states and 12 countries competed. More than 20 million people have attended WFC or have seen it on national TV over the past seven years. This year's 2019 Main Event will be held in Dallas, Texas at Reunion Tower Lawn, Oct. 16-20.
ABOUT CHALLENGE BUTTER
Challenge Dairy is a wholly owned subsidiary of California Dairies Inc., the second largest dairy cooperative in the United States. Award-winning Challenge Butter began more than one hundred years ago. Challenge has not only been a pioneer in the quality in butter products but is also responsible for many industry firsts including the invention of the first aluminum butter churn, lab sampling of butter and shipping butter in paper rather than wooden crates. For more information, visit www.challengedairy.com.
« Back to News