How You Can Become Involved In The World's Largest Food Sport Event
Share:
Posted May 7, 2019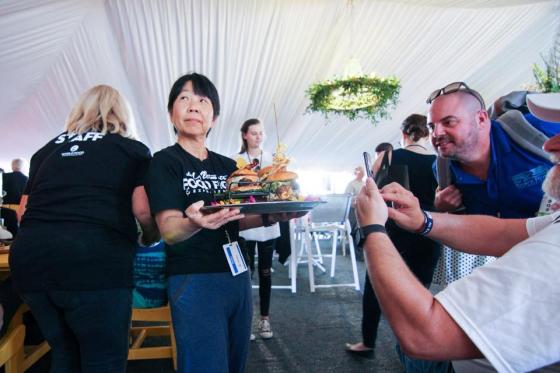 The World Food Championships (WFC), Dallas' newest foodie festival, is only a few months away from making its debut October 16-20 at Reunion Tower Lawn. Leading up to the Main Event, WFC has presented opportunities for locals and surrounding areas to get involved.
Judge the World's BEST Culinary Dishes:
WFC uses its own proprietary methodology (referred to as the E.A.T.™ method) to judge its competition dishes: Execution, Appearance and Taste. In order to become E.A.T.™ certified, judges must first attend a "Licensed To E.A.T.™" course where a Food Sport Ambassador will instruct, educate and discuss everything you need to know about scoring championship-caliber dishes.
While the class is based around educational purposes, typically it also serves as a party where Food Sports' newest fans can mix and mingle. Most courses will also include a tasty food samples in order for attendees to test out their new food judging skills!
Upon completion of the course, attendees will be eligible to judge the world's tastiest, best dishes at WFC's Main Event this October in Dallas, Texas. Sign up to judge this prestigious event at https://worldfoodchampionships.com/judges-register.
To find a "Licensed To E.A.T.™" food judge class near you, please visit https://worldfoodchampionships.com/become-a-judge.
Volunteer for a Behind the Scenes Look at WFC:
WFC, like most festivals, thrive because of the amazing, generous help from its volunteers. Without their help, this larger-than-life event would not be possible.
In return for the helping hands, WFC provides each volunteer with a souvenir t-shirt, championship food during shift breaks and two free day passes for access to the Main Event..
Additionally, volunteers receive a behind the scenes look at all parts of the world's largest Food Sport tournament.Duties as a volunteer might include helping set up, monitoring various entry points, serving food samples throughout the festival, assisting team leads on a specific task or even just answering questions at the info tent.
If you are interested in becoming a volunteer, simply click here, and select "Add Impact." After signing up for an account, you can then select a volunteer shift! Easy as pie!
WFC's 8th Annual Main Event is scheduled for October 16 – 20, 2019, at Reunion Tower Lawn in Dallas, Texas. To keep up with all WFC news, follow World Food Championships on Twitter (@WorldFoodChamp), and Facebook or Instagram (@WorldFoodChampionships). Click here to book your room for #WFC2019.
About the World Food Championships
The World Food Championships (WFC) is the highest stakes food competition in the world. This multi-day, live-event culinary competition showcases some of the world's best cooking masters competing for food, fame and fortune in ten categories: Bacon, Barbecue, Burger, Chef, Chili, Dessert, Recipe, Sandwich, Seafood and Steak. In 2018, over 1,500 contestants on nearly 500 official teams from 42 American states and 12 countries competed. More than 20 million people have attended WFC or have seen it on national TV over the past seven years. This year's Main Event will be held in Dallas, Texas at Reunion Tower Lawn, Oct. 16-20.
« Back to News