Minor's® Makes Major Food Sport Move in 2019
Share:
Posted May 7, 2019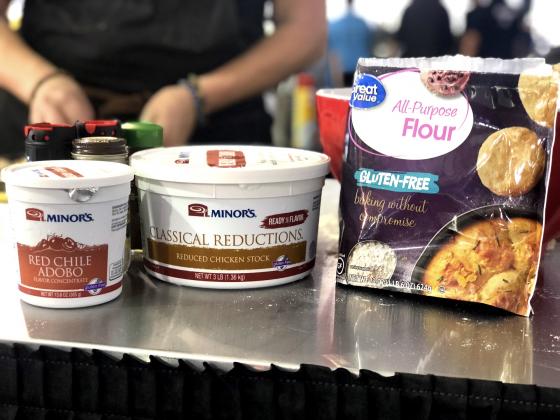 The World Food Championships (WFC) welcomes Minor's® back for another year of food-fighting! The #1 preferred flavor base of professional chefs has signed on for its second year as the Official Structured Sponsor of the World Chef Category.
Competitors in the Chef category will be challenged once again to incorporate Minor's® signature flavors (Flavor Concentrates: Roasted Garlic , Red Chili Adobo; Roulades: Brown Sauce Prep ,Classical Reduction Chicken) into their recipe for the structured build portion of WFC's competition.
To give competitors the opportunity to test these flavors, Minor's® will provide a pre-order link in order to have its products ship directly to them. Pre-order and competition specifics will be included in the 2019 Competitors Packet, which releases on August 1.
"We are thrilled to have Minor's® on board for another great year of competition," said Mike McCloud, President and CEO of WFC. "Our competitors thoroughly enjoyed utilizing their products in 2018 and I know they will be excited for another chance to create awarding-winning creations with them once again."
Minor's® understands that flavor means business and wants all competitors to be able to cook using their authentic flavors. Therefore, to help equip Food Champs throughout the tournament, Minor's® will be making their premium products available in the WFC Pantry.
Since pioneering the first flavor base in 1951, Minor's® has been an essential ingredient of professional kitchens. Each of their bases, sauces and concentrates have been developed by chefs, for chefs, to provide the very best flavor. Minor' ® products allow Chefs to add the savory flavors of freshly roasted meats, sautéed and caramelized vegetables or authentic global experiences to their creations instantly—which is critical during timed competitions at WFC.
WFC's 8th Annual Main Event is scheduled for October 16 – 20, 2019, at Reunion Tower Lawn in Dallas, Texas. To keep up with all WFC news, follow World Food Championships on Twitter (@WorldFoodChamp), and Facebook or Instagram (@WorldFoodChampionships). Click here to book your room for #WFC2019.
About Minor's®
Minor's® has a rich heritage of providing exceptional flavors to professionals that take pride in every dish and every ingredient. Created by chefs, for chefs, each Minor's ® product — from kitchen essentials like bases and flavor concentrates— to new innovations like Classical Reductions™ and GreenLeaf Pestos™— use high-quality ingredients that are selected, sourced and handled with care to the highest standards of quality and food safety. In 2016, Minor's ®facility achieved ready-to-eat status from the USDA, meaning Minor's ® Ready to Flavor™ products can now be added to hot and cold applications without the added step of cooking. www.flavormeansbusiness.com.
About the World Food Championships
The World Food Championships (WFC) is the highest stakes food competition in the world. This multi-day, live-event culinary competition showcases some of the world's best cooking masters competing for food, fame and fortune in ten categories: Bacon, Barbecue, Burger, Chef, Chili, Dessert, Recipe, Sandwich, Seafood and Steak. In 2018, over 1,500 contestants on nearly 500 official teams from 42 American states and 12 countries competed. More than 20 million people have attended WFC or have seen it on national TV over the past seven years. This year's Main Event will be held in Dallas, Texas at Reunion Tower Lawn, Oct. 16-20, 2019.
« Back to News