World Food Championships Closes Its Fourth Category For 2019 Main Event
Share:
Posted Apr 29, 2019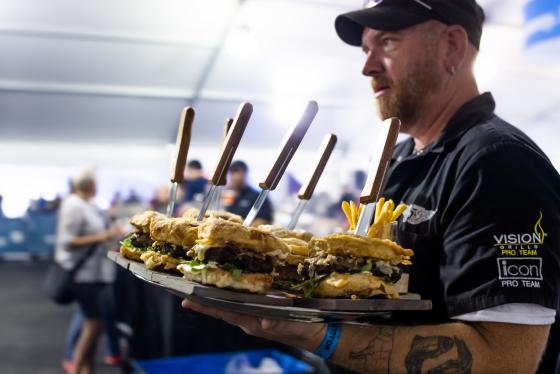 The World Food Championships (WFC), the largest culinary competition in Food Sport, announced today four out of 10 categories are closed for its 2019 Main Event in October.
Barbecue was the first category to fill up for this year's food fight, while three categories (Burger, Dessert and Seafood) closed this week once results were released from the Taste of America and Taste of Canada online recipe challenges.
So, what does this mean for hopeful cooks still looking to take a bite out of the action in 2019?
Despite all of the spots for the upcoming 8th Annual Main Event being accounted for, not all hope is lost for eager Food Champs still looking to compete at Reunion Tower Lawn in Dallas, Texas. In fact, many spots are now in the hands of WFC State Partners who will be holding events between now and October to reward 2019 Golden Tickets. Click here to view the full list of qualifiers.
For competitors who have ALREADY won a Golden Ticket but missed the opportunity to register in these now-closed categories, there is still a way to possibly get into WFC 2019. In each category, there is now an official waitlist. The WFC registration team will be monitoring the current team list and updating waitlisted teams if a spot opens up due to family emergencies or other situations that create cancellations. Teams can also register in one of the other categories, as long as they haven't been closed. These two alternative options require assistance and discussion with WFC's staff, so please send an email to info@worldfoodchampionships.com
WFC's 8th Annual Main Event is scheduled for October 16 – 20, 2019, at Reunion Tower Lawn in Dallas, Texas. To keep up with all WFC news, follow World Food Championships on Twitter (@WorldFoodChamp), and Facebook or Instagram (@WorldFoodChampionships). Click here to book your room for #WFC2019.
About the World Food Championships
The World Food Championships (WFC) is the highest stakes food competition in the world. This multi-day, live-event culinary competition showcases some of the world's best cooking masters competing for food, fame and fortune in ten categories: Bacon, Barbecue, Burger, Chef, Chili, Dessert, Recipe, Sandwich, Seafood and Steak. In 2018, over 1,500 contestants on nearly 500 official teams from 42 American states and 12 countries competed. More than 20 million people have attended WFC or have seen it on national TV over the past seven years. This year's Main Event will be held in Dallas, Texas at Reunion Tower Lawn, Oct. 16-20, 2019.
« Back to News