Observer's Iron Fork Will Feature WFC Food Champs In A Food Sport Challenge
Share:
Posted Apr 18, 2019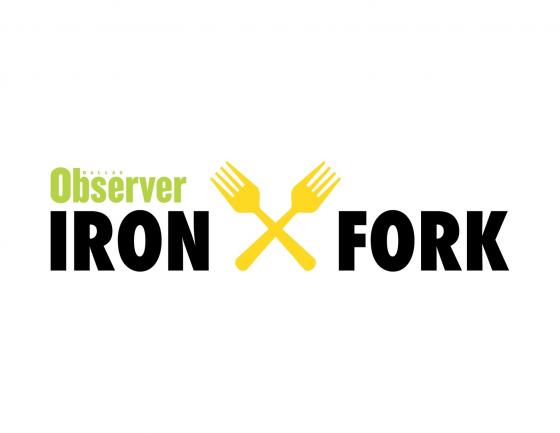 The World Food Championships (WFC) announced it is partnering with the Dallas Observer, a popular media group, to bring a new Food Sport feature to its signature culinary event, The Iron Fork, on May 1 at Centennial Hall at Fair Park.
Iron Fork attracts a very diverse group of Dallas foodies who gather to feast on samples from over 40 local restaurants and food purveyors. Iron Fork is a food event that highlights the hidden gems of Dallas' culinary landscape, as determined by the Observer's food critic. This year's spatula-flyin' chef competition will be moderated by President and CEO of the World Food Championships, Mike McCloud. During the exciting cooking competition, guests can enjoy cocktails, music and food samplings while to Food Champs duke it out for a Golden Ticket to this year's WFC Main Event.
WFC is making its debut in October at Reunion Tower Lawn. This five-day cooking tournament will attract more than 1500 chefs and cooks from around the world, all trying to win their share of over $300,000 in cash while the TV cameras are rolling and the clock is ticking. Hailed by ABC's Nightline as the "Olympics of Food", WFC will also have numerous tasty attractions for Dallas foodies. Dozens of live demos from celebrity chefs will occur on the MAXimus Culinary Semi-Truck (as seen on Gordon Ramsay's 24 Hours To Hell and Back), while festival attendees can enjoy thousands of caloric goodies in the Walmart Tasting Village.
"We are so excited to be a part of this great culinary event and introduce ourselves to Dallas foodies," said Mike McCloud, President and CEO of WFC. "WFC is no stranger to epic food fights such as Iron Fork. We are looking forward to helping take this event to the next level and give audiences a taste of what to expect at our Main Event in October."
Similar to years past, two chefs will be presented with a basket of food and a secret ingredient that they must incorporate into their featured dish. The chefs will then cook their dish in a mini kitchen set-up to see who has what it takes to win the title of Iron Chef. Pantry partner, Ben E Keith, will provide chefs with ingredients while Gotham Steel will supply its signature line of nonstick cookware to help competitors perfect their masterpiece.
Here's a little about the competing chefs:
Chef Aundre Blasingame
Chef Aundre has over 24 years of experience in the foodservice industry. His career experience spans from Jamba Juice and Popeyes Chicken all the way to Executive Chef for companies like Dr. Pepper Snapple Group, Aramark and American Airlines. He is a current member of WFC Team Texas and Texas Super Chef. He completed his culinary internship at the Grand Floridian Resort at infamous Walt Disney World and then went on to become a LeCordon Bleu College of Culinary Arts' graduate.
Chef Keith Browning
Chef Keith Browning, currently Executive Chef, Butcher & General Manager of The Meat Shop, Lovers Lane, Dallas. Browning has been recognized throughout his almost 20-year culinary career for being a visionary chef in a diverse range of cuisine. Chef Browning has earned & received numerous awards including: silver medals as a team member of the Epicurean World Master Chefs Society Competition, London in 2002 & 2004, Texas Chefs Association Junior Chef of the Year for Dallas & The State of Texas in 2002, along with medals in over five other competitions.
To learn more about Iron Fork and grab your tickets, visit OBSERVERIRONFORK.COM.
WFC's 8th Annual Main Event is scheduled for October 16 – 20, 2019, at Reunion Tower Lawn in Dallas, Texas. To keep up with all WFC news, follow World Food Championships on Twitter (@WorldFoodChamp), and Facebook or Instagram (@WorldFoodChampionships). Click here to book your room for #WFC2019.
About the World Food Championships
The World Food Championships (WFC) is the highest stakes food competition in the world. This multi-day, live-event culinary competition showcases some of the world's best cooking masters competing for food, fame and fortune in ten categories: Bacon, Barbecue, Burger, Chef, Chili, Dessert, Recipe, Sandwich, Seafood and Steak. More than 20 million people have attended WFC or have seen it on national TV over the past seven years. The 8th annual Main Event will be held in Dallas, Texas at Reunion Tower Lawn, Oct. 16-20, 2019.
« Back to News