WÜSTHOF Brings Cutting-Edge Support to Dallas Debut of WFC
Share:
Posted Apr 4, 2019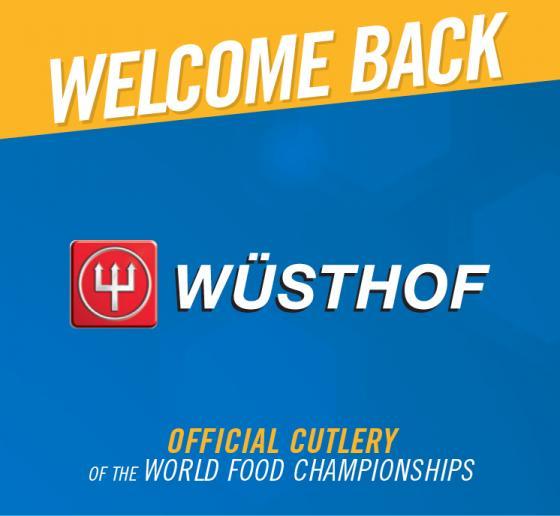 The World Food Championships (WFC) announced that the cutting-edge, industry leader –– WÜSTHOF –– will be returning to its Main Event this October to sharpen the world's largest Food Sport event as the Official Cutlery sponsor.
With over 200 years of history, WÜSTHOF continues to craft every knife in its original birth city –– Solingen, Germany. This premium cutlery company is dedicated to producing expertly crafted products and has been family-owned for seven generations.
Additionally, WÜSTHOF takes pride in its commitment to environmental awareness and sustainability. For this reason, the company's production methods are continually optimized to increase its energy efficiency by using raw materials, limits wastewater contamination and reduce emissions of CO² and other gases.
"Last year, WÜSTHOF joined forces with WFC to help empower our Food Champs and elevate our competition with their premium products," said Mike McCloud, President and CEO of WFC. "We are thrilled to have them join us again for another great year of Food Sport."
Once again, chefs and cooks will have the opportunity to learn about the incredible line of WÜSTHOF knives. Representatives from the company will be on hand at this year's competition to demonstrate their superiority. The 8th Annual World Food Champion will be awarded a 20-piece, classic block set ($2,067 retail value), and all Food Sport competitors will be able to take advantage of special event packaging and WFC discounts on-site.
"We can't wait to see what exciting things are in store for this year's competition in Dallas," commented WÜSTHOF's National Sales Director, Clark Stone. "WFC shows great dedication and passion for elevating talented chefs and cooks in the industry and we look forward to continuing our role as part of that process."
WFC's 8th Annual Main Event is scheduled for October 16 – 20, 2019, at Reunion Tower Lawn in Dallas, Texas. To keep up with all WFC news, follow World Food Championships on Twitter (@WorldFoodChamp), and Facebook or Instagram (@WorldFoodChampionships). Click here to book your room for #WFC2019.
About the World Food Championships
The World Food Championships (WFC) is the highest stakes food competition in the world. This multi-day, live-event culinary competition showcases some of the world's best cooking masters competing for food, fame and fortune in ten categories: Bacon, Barbecue, Burger, Chef, Chili, Dessert, Recipe, Sandwich, Seafood and Steak. In 2018, over 1,500 contestants on nearly 500 official teams from 42 American states and 12 countries competed. More than 20 million people have attended WFC or have seen it on national TV over the past seven years. The 2019 Main Event will be held in Dallas, Texas at Reunion Tower Lawn, Oct. 16-20, 2019.
« Back to News