Returning Sandwich Sponsor Koops' Up With The World Food Championships In Dallas
Share:
Posted Mar 28, 2019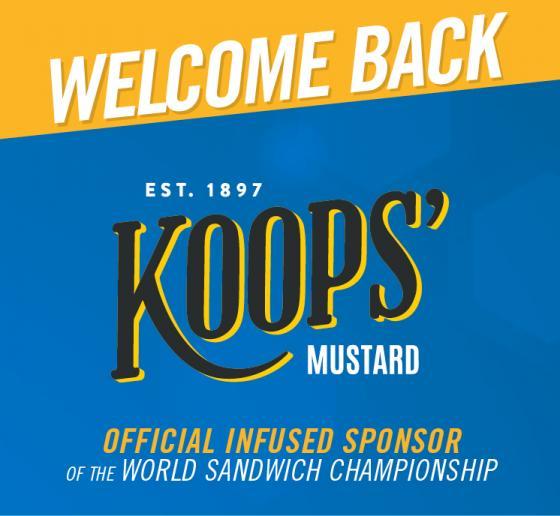 Koops' Mustard musters up bold flavors for its second year as the Sandwich Category sponsor for Food Sport's biggest event yet – the World Food Championships (WFC), which is being held in Dallas, Texas this October.
Food Champs competing in the World Sandwich Championship will be mailed a selection of Koops' Mustard's featured products (Arizona Heat, Honey Dijon, Jalapeno and Düsseldorf), so they can start preparing for the Ultimate Food Fight and perfect their infused recipes.
Out of Koops' Mustard's 14 delicious flavors, the company will also be making several of its products available to all competitors through WFC's pantry.
"There just isn't a better sandwich mustard than Koops' Mustard, so we had to ask them to follow us to Dallas this October for a potentially record-breaking year," said Mike McCloud, President and CEO of WFC. "The sandwich category is always exciting because the competitors are really creative with mixing flavors, and Koops' provides the perfect platform for this high-level creativity."
With 120 years in the mustard business, this family-owned company prides themselves in having the oldest recipes with the freshest ingredients. Koops' Mustard products have no complicated additives, hard to pronounce chemicals or scary sounding preservatives. Instead, their popular spreads are made up of quality ingredients like mustard seed, vinegar, and water.
Look out for Koops' Mustard on-site at WFC in Dallas. They have a few surprises in store so be sure to stop by and say hello! To find out more about Koops' Mustard and where you can find it, visit http://koopsmustard.com/ and follow them on Facebook, Instagram and Twitter.
About the World Food Championships
The World Food Championships (WFC) is the highest stakes food competition in the world. This multi-day, live-event culinary competition showcases some of the world's best cooking masters competing for food, fame and fortune in ten categories: Bacon, Barbecue, Burger, Chef, Chili, Dessert, Recipe, Sandwich, Seafood and Steak. In 2018, over 1,500 contestants on nearly 500 official teams from 42 American states and 12 countries competed. More than 20 million people have attended WFC or have seen it on national TV over the past seven years. The 2019 main event will be held in Dallas, Texas, Oct. 16-20, 2019.
« Back to News