Indiana-Based Sponsor Continues to Set The WFC Gold Standard
Share:
Posted Mar 25, 2019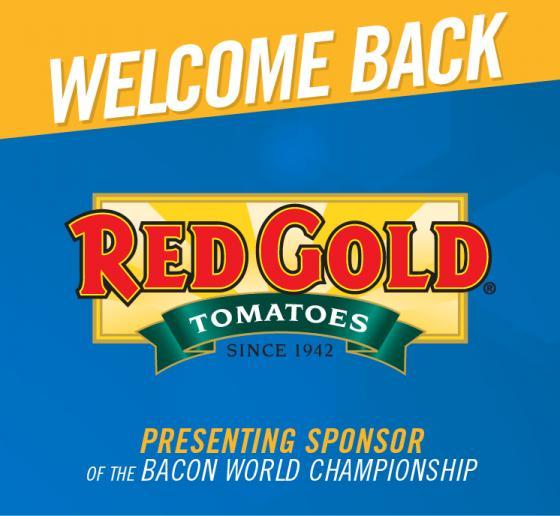 The World Food Championships (WFC) announced today a sizzling new extension of its relationship with Red Gold Tomatoes at this year's WFC debut in Dallas, Texas. Now entering its fourth championship, Red Gold will become the presenting sponsor of the Bacon World Championship, where the official structured and infusion challenges will involve products from the Indiana-based sponsor.
Red Gold has partnered with family farms for the past 75 years to focus on sustainability and efficiency through the company's mission providing "The Freshest, Best Tasting Tomato Products in the World." That attention to a gold-standard in producing quality products has made Red Gold one of WFC's longest and most respected partners.
"The Red Gold family has truly become a big member of our Food Sport family," said Mike McCloud, President and CEO of WFC. "We appreciate the vital role they've played over the years in helping us showcase the talents of cooks and chefs throughout the calendar year and especially at our competition. Plus, we love how they integrate their brand with consumers at our event as well. They definitely have a great brand with super engaging advocates who support our mission in many effective ways."
In addition to Red Gold Tomatoes' sponsorship, the company is also named as the exclusive tomato and ketchup brand for WFC 2019.
Red Gold Tomatoes' products will be made available in WFC's pantry, but prospective competitors currently have the opportunity to infuse any of the company's ingredients in the Taste of America (TOA) Challenge –– WFC's largest online recipe qualifier. Chefs and home cooks entering in TOA have the chance to win one of 150 available Golden Tickets, 50 of which are comped tickets. For anyone interested in learning about TOA and its rules and regulations, visit https://worldfoodchampionships.com/2019-taste-of-america.
Along with giving away five Golden Tickets throughout the year, Red Gold Tomatoes will also be active at WFC, performing live cooking demonstrations on the MAXimus truck! Make sure to stop by to say hello to one of WFC's oldest Food Sport sponsor and try out some tasty products!
To learn more about Red Gold Tomatoes, visit https://redgoldtomatoes.com/.
WFC's 8th Annual Main Event is scheduled for October 16 – 20, 2019, at Reunion Tower Lawn in Dallas, Texas. To keep up with all WFC news, follow World Food Championships on Twitter (@WorldFoodChamp), and Facebook or Instagram (@WorldFoodChampionships). Click here to book your room for #WFC2019.
About the World Food Championships
The World Food Championships (WFC) is the highest stakes food competition in the world. This multi-day, live-event culinary competition showcases some of the world's best cooking masters competing for food, fame and fortune in ten categories: Bacon, Barbecue, Burger, Chef, Chili, Dessert, Recipe, Sandwich, Seafood and Steak. In 2018, over 1,500 contestants on nearly 500 official teams from 42 American states and 12 countries competed. More than 20 million people have attended WFC or have seen it on national TV over the past seven years. The 2019 Main Event will be held in Dallas, Texas at Reunion Tower Lawn, Oct. 16-20, 2019.
« Back to News