The World Food Championships Makes "EZ" Decision To Bring Back Dessert Sponsor
Share:
Posted Mar 21, 2019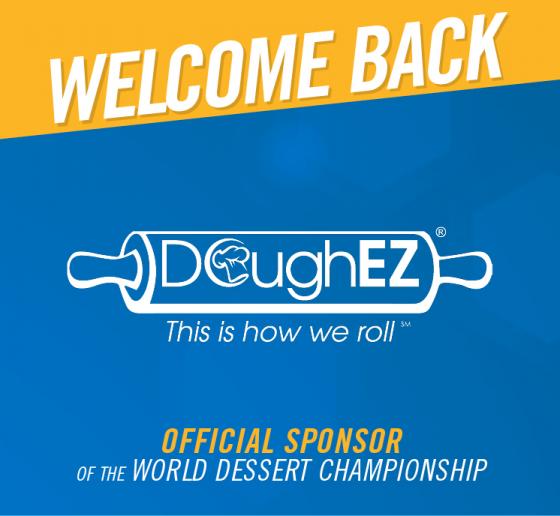 The World Food Championships (WFC) rolls out the red carpet for Dough EZ –– the Official Structured Sponsor of the 2019 World Dessert Championship.
"So many of our competitors spoke so highly of Dough EZ and the difference the products made in their performance," said Mike McCloud, President and CEO of WFC. "We want every competitor to start on a level playing field and providing these innovative tools to the Dessert category competitors creates just that."
Similar to year's past, this Florida-based company will be adding more dough to WFC's Main Event in Dallas, Texas this October. Dough EZ will be mailing each Dessert competitor a Signature Mat and Rolling Pin, which will be a required element in the Structured Build round.
Aside from the mat and rolling pin, Dough EZ provides an array of equipment that all WFC competitors, regardless of category, can utilize in the creation of their entry dish. From pizza pans and guide rulers to baguette pans with the same silicon and non-stick design, there is a product that every Food Champ can enjoy.
Furthering its mission to help beginner and advanced cooks bake without mess and stress, Dough EZ embarked on a nationwide demo activation partnership with Sam's Club. This partnership was a direct result of Dough EZ's participation as an exhibitor in WFC's Innovation Station in 2018.
Providing a unique platform that elevates the latest trends and inventions in the food industry, WFC's Innovation Station gives brands the opportunity to connect to a bigger audience. For more information about becoming an exhibitor for WFC's 2019 Main Event, visit https://exhibitor.worldfoodchampionships.com/.
To learn more about Dough EZ and its products, visit https://dough-ez.com/
WFC's 8th Annual Main Event is scheduled for October 16 – 20, 2019, at Reunion Tower Lawn in Dallas, Texas. To keep up with all WFC news, follow World Food Championships on Twitter (@WorldFoodChamp), and Facebook or Instagram (@WorldFoodChampionships). Click here to book your room for #WFC2019.
About the World Food Championships
The World Food Championships (WFC) is the highest stakes food competition in the world. This multi-day, live-event culinary competition showcases some of the world's best cooking masters competing for food, fame and fortune in ten categories: Bacon, Barbecue, Burger, Chef, Chili, Dessert, Recipe, Sandwich, Seafood and Steak. In 2018, over 1,500 contestants on nearly 500 official teams from 42 American states and 12 countries competed. More than 20 million people have attended WFC or have seen it on national TV over the past seven years. The 2019 Main Event will be held in Dallas, Texas at Reunion Tower Lawn, Oct. 16-20, 2019.
« Back to News