WFC's New Apparel Sponsor Aims To Make Food Champs Stylish — And Happy
Share:
Posted Mar 12, 2019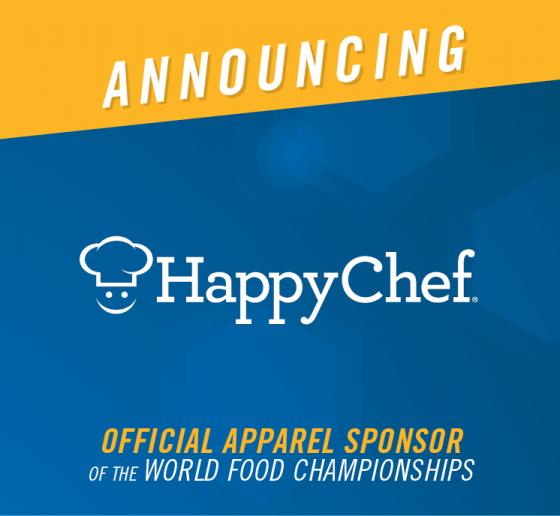 Food Champs will be happy to know that one of Food Sport's returning sponsors will be making its debut in Dallas as the Official Apparel Sponsor of the World Food Championships (WFC).
Happy Chef is a New Jersey-based chef apparel brand that has developed a one-stop resource for the leading innovations in culinary styles. From CookCool® performance coats & pants to rustic denim aprons, Happy Chef has proudly earned its reputation by consistently designing high-quality products at the most affordable prices.
"We are excited to have Happy Chef join us for our biggest event yet in Dallas," said Mike McCloud, President and CEO of WFC. "Last year, we heard great feedback about the quality and affordability that this brand offers, so we're excited to see them joining our team officially as our apparel sponsor."
Happy Chef is currently featuring a total of 11 chef coats & aprons on the WFC Merchandise page, here. Each product will include the 2019 WFC logo. From a large selection of chef coats to assorted colors and styles of aprons, Happy Chef is a one-stop shop for all your competition teams' apparel!
"We're very excited to expand our partnership with the WFC and continue our shared commitment to support and celebrate culinary competitors and professionals around the world," said Jake Nadler, Brand Director of Happy Chef. "It's an honor being able to serve such a wide array of culinary talent, as well as the next generation of chefs. We look forward to working with the WFC to help further the growth of Food Sport."
Happy Chef will also provide the ultimate symbol of Food Sport success – a Gold Chef Coat. Much like the Masters' iconic tradition of draping the Green Jacket over the champion, WFC will now award each category champion with a highly-coveted Gold Chef Coat thanks to its new apparel sponsor. Each coat will be personalized with the champs name and reigning title and sent to them in the following weeks.
WFC's 8th Annual Main Event is scheduled for October 16 – 20, 2019, at Reunion Tower Lawn in Dallas, Texas. To keep up with all WFC news, follow World Food Championships on Twitter (@WorldFoodChamp), and Facebook or Instagram (@WorldFoodChampionships). Click here to book your room for #WFC2019.
About Happy Chef
Happy Chef, the international manufacturer of culinary & hospitality apparel, has been providing solutions to chefs, since its inception in 1985. The brand's functional and fashionable garments are created by transforming the insights of culinary professionals of all levels into products that chefs are excited to wear. For more information, visit happychef.com, follow us on Facebook, Instagram, and Twitter.
« Back to News