Springer Mountain Farms Makes a "Super" Return to Food Sport
Share:
Posted Feb 27, 2019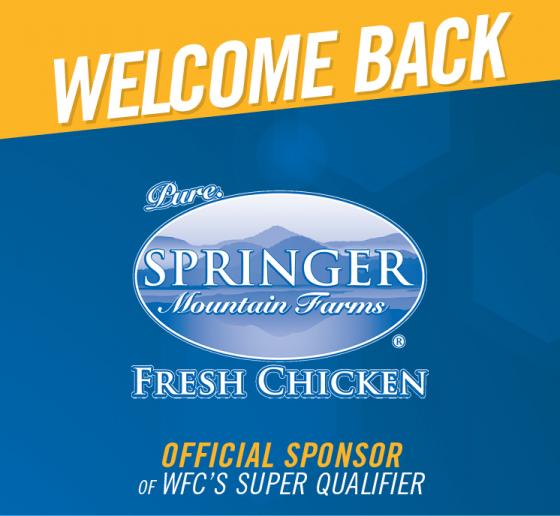 The World Food Championships (WFC) announced today that Springer Mountain Farms will be returning to the Ultimate Food Fight to present a "Super" opportunity for Food Champs at its main event in Dallas, Texas, this October.
As a sponsor of the Main Event's final competition, Springer Mountain Farms will be giving Food Champs, who did not make Top 10 rounds, a chance to earn a Golden Ticket into the 2020 championship — plus extra prize money!
Known as WFC's Super Qualifier, 20 of the highest scoring Food Champs who are still present on Sunday, Oct 20, will have a chance to show off their culinary skills one more time. Up for grabs is a Golden Ticket for the top three finishers, as well as $1,000 for the highest score of the challenge. That challenge? Chicken wings! Springer Mountain Farms will be providing chicken wings for all 20 contestants and then looking for creativity, execution and tasty delights to be judged by WFC's E.A.T.™ certified experts.
Now in its third year of supporting Food Sport, Springer Mountain Farms was the first poultry company in the world to be American Humane Certified by the American Humane Association, the longest running child and animal welfare organization in the nation. They pride themselves on producing the most delicious, purest, and most nutritious chicken possible.
"We are honored to have Springer Mountain Farms join us again for another exciting year of Food Sport," commented Mike McCloud, CEO of WFC. "The Super Qualifier has become one of our most popular ancillary challenges at WFC. It gives champs who have been knocked out of the main competition something to look forward to and allows them to get a jump start on qualifying for next year's event.
WFC's 8th Annual Main Event is scheduled for October 16 – 20, 2019, at Reunion Tower Lawn in Dallas, Texas. To keep up with all WFC news, follow World Food Championships on Twitter (@WorldFoodChamp), and Facebook or Instagram (@WorldFoodChampionships). Click here to book your room for #WFC2019.
For more information on Springer Mountain Farms, please visit http://www.springermountainfarms.com/.
About Springer Mountain Farms
Built on strong values and family farms, Springer Mountain Farms® is a Mt. Airy, Georgia-based poultry producer promising the healthiest, most flavorful and top quality chickens on the market. It is the first poultry company in America to be certified by the American Humane Association for the humane treatment of chickens. Springer Mountain Farms® chickens are raised on pesticide-free vegetarian diets without the use of antibiotics, steroids, growth stimulants or hormones. To learn more about Springer Mountain Farms®, visit SpringerMTN.com and connect on Facebook, Twitter @SMFchicken, and Instagram at @SMFchicken.
« Back to News