Alabama Coasting Continues Food Sport Wave in Alabama
Share:
Posted Feb 26, 2019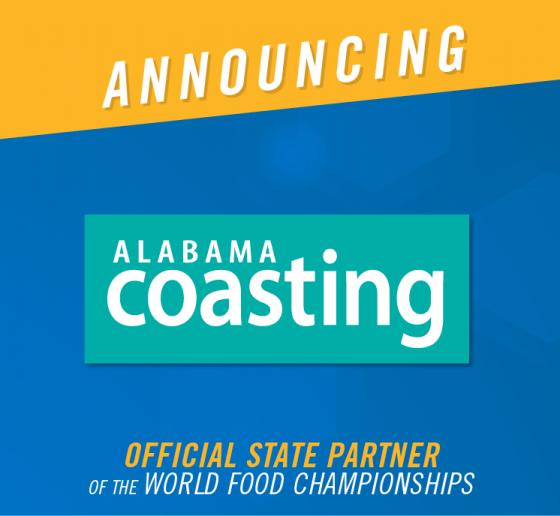 The World Food Championships (WFC) and Alabama Coasting announced an extension of its 2019 Alabama State Partnership. With WFC moving its Main Event to Dallas this October, Alabama Coasting has agreed to take on an enhanced responsibility as the primary gateway for Alabama competitors who want to qualify into the world's largest Food Sport event.
"For the past three years, our Alabama hosts embraced our competition and provided vital support that helped make our event a huge operational and strategic success," commented Mike McCloud, President and CEO of WFC. "We're excited to continue this momentum by working with Alabama Coasting. Our goal, as is theirs, is to ensure that Food Sport continues to have a strong presence throughout the great state of Alabama."
Danny Calametti, Alabama Coasting CEO, agreed and added, "We see our role as the Alabama State Partner more important than ever. Not only will we be representing WFC and recruiting competitors for Team Alabama, but we'll also have the honor of promoting our great Alabama culinary culture to the world as we descend upon Texas!"
As a State Partner for WFC, Alabama Coasting will coordinate and sanction all state-related WFC activities, including sponsoring or endorsing exclusive qualifying events, hosting certified judging classes, licensing official products, and creating other WFC "chef-centric" events. Calametti also noted, "Our work to accomplish these activities will include statewide tourism partners, Alabama's unique food stories and the people who create them locally, regionally and internationally."
Alabama cooks have been very active in the Food Sport scene throughout the competition's history. In 2018, five Alabama food champs made it into the Top Ten rounds at WFC.
"Alabama, with its great culinary talent, has been one of our top competing states in years past," McCloud said. "We are thrilled to have Alabama Coasting continue its partnership to provide residents with a creative and fun way to earn a chance at food fame and fortune."
McCloud pointed out that the exceptions to the Alabama state partnership will be the Taste of America online recipe contest, any Alabama resident who has already earned a Golden Ticket and Grand or Reserve Grand Championship of sanctioned Chili or Barbecue events.
For more information about Alabama's qualifying events, visit www.wfcteamalabama.com.
The Main Event is scheduled for October 16-20, 2019, at Reunion Tower Lawn in Dallas, Texas. To keep up with all WFC news, follow World Food Championships on Twitter (@WorldFoodChamp), and Facebook or Instagram (@WorldFoodChampionships). Click here to book your room for #WFC2019.
About the World Food Championships
The World Food Championships (WFC) is the highest stakes food competition in the world. This multi-day, live-event culinary competition showcases some of the world's best cooking masters competing for food, fame and fortune in ten categories: Bacon, Barbecue, Burger, Chef, Chili, Dessert, Recipe, Sandwich, Seafood and Steak. In 2018, over
1,500 contestants on nearly 500 official teams from 42 American states and 12 countries competed. More than 20 million people have attended WFC or have seen it on national TV over the past seven years.
The 2019 main event will be held in Dallas, Texas, Oct. 16-20, 2019.
« Back to News