Maryland Joins Food Sport As State Partner for 2019
Share:
Posted Feb 15, 2019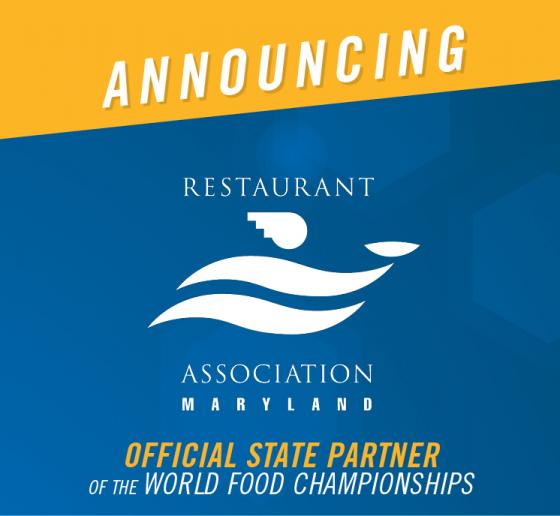 World Food Championships (WFC) announced today that it has entered into an agreement with The Restaurant Association of Maryland for the state of Maryland to be represented at WFC 2019. The association will be awarding four Golden Tickets to Maryland chefs through its Maryland Foodie Fest, which is set for June 22, 2019.
"We are very excited about expanding our WFC partner program with quality organizations like the Restaurant Association of Maryland," commented Mike McCloud, President, and CEO of WFC. "We look forward to helping R.A.M. expand and elevate its culinary programs, while providing passionate Food Champs a fun, challenging way to qualify into our Main Event."
The Maryland Foodie Fest will be the exclusive gateway for Maryland chefs to qualify for the world's largest Food Sport event. WFC hopefuls will have the opportunity to win a Golden Ticket to compete in one of the ten championships to be held in Dallas, Texas this October. The Maryland Foodie Fest's Chili competition will feature both a Judge's Choice and People's Choice winner, which means competitors will have two chances to qualify! The event will also include food samplings from restaurants across the state, live music, beer, wine and much more!
McCloud pointed out that the two exemptions to this new Maryland state partnership will be the Taste of America online recipe contest for home cooks, and any Maryland resident who has already earned a Golden Ticket by performing well at WFC 2018. Additional ways for Maryland home cooks or pro teams to earn a Golden Ticket include grand championships of sanctioned Chili or Barbecue contests.
The main event is scheduled for October 16 – 20, 2019, at Reunion Tower Lawn in Dallas, Texas. To keep up with all WFC news, follow World Food Championships on Twitter (@WorldFoodChamp), and Facebook or Instagram (@WorldFoodChampionships). Click here to book your room for #WFC2019.
About the World Food Championships
The World Food Championships (WFC) is the highest stakes food competition in the world. This multi-day, live-event culinary competition showcases some of the world's best cooking masters competing for food, fame and fortune in ten categories: Bacon, Barbecue, Burger, Chef, Chili, Dessert, Recipe, Sandwich, Seafood and Steak. In 2018, over 1,500 contestants on nearly 500 official teams from 42 American states and 12 countries competed. More than 20 million people have attended WFC or have seen it on national TV over the past seven years. The 2019 main event will be held in Dallas, Texas, Oct. 16-20, 2019.
« Back to News