The World Food Championships Announces Official 2019 Categories
Share:
Posted Jan 25, 2019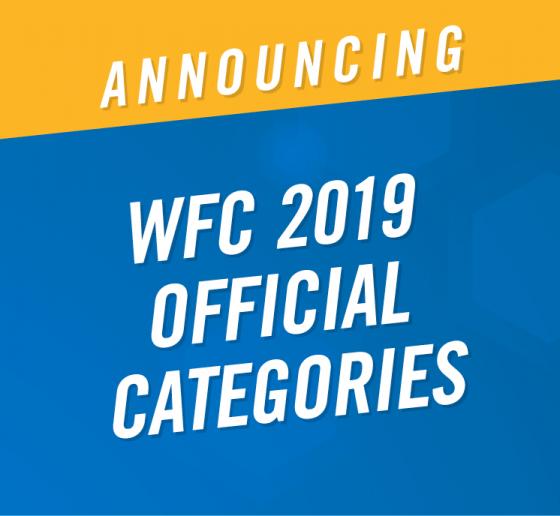 The World Food Championships (WFC) announced the official 2019 categories for its main event this October in Dallas, Texas. Heading into its 8th season of competition, WFC is "going back to the future" by reviving one of its most popular categories from years past.
"We are excited to release this highly-anticipated list of categories to Food Sport Nation," said Mike McCloud, President and CEO of WFC. "We can't wait to see what unique culinary creations each category will reveal at this year's competition, which promises to have the largest and most talented field of contestants yet."
One notable change to this year's category line-up is the return of the World Recipe Championship. Recipe will take the place of the Chicken category, which WFC introduced in 2017 through a beta test and then added as a category in 2018.
"The Recipe category has always served as an incredible beta program at WFC, allowing us to introduce new and inventive concepts into the competition," explained McCloud. "We felt the need to bring it back into the mix to encourage competitors to really show off their talents in Dallas, as well as bring in some unique, trending concepts that we are seeing in the food industry."
Competitors who have previously won a 2019 Golden Ticket into the Chicken category have the options to either stay in the Recipe category OR select a category of their choice, as long as other category spots are still available. (Please note: these individuals will have until February 28, 2019, to make their selection to stay or switch).
In addition to Recipe, the remaining nine championships will include Bacon, Barbecue, Burger, Chef, Chili, Dessert, Sandwich, Seafood and Steak.
Another key change that will be implemented in 2019 is how Barbecue and Steak teams will qualify. This year, any barbecue team that won a Grand or Reserve Grand Championship from January 1 - December 31, 2018, from any official sanctioning body, is now qualified to register into WFC's Barbecue category. This includes MBN, KCBS (Master's series), Pacific Northwest BBQ Association, St. Louis BBQ Association, FBA, IBCA, SBN (Southern BBQ Network), SCBA and potentially others. (Please note: if you have any barbecue qualifying questions, email info@worldfoodchampionships.com).The field in both Barbecue and Steak will be limited and guaranteed to the first 100 registrations, followed by a 20-team wait list.
The same qualifying period (January 1 - December 31, 2018) will allow Steak competitors with Grand or Reserve Grand Championships from 2018 sanctioned events to qualify and register into WFC 2019. Winners of the Steak Cookoff Association (SCA) process will be given first priority since SCA rules will be used in the Opening Round of WFC's 2019 Steak Championship. There will be up to 100 spots available, followed by a 20-team wait list.
As far as the barbecue process at this year's event, WFC also announced today that there will be two opening rounds:: one in the IBCA format, and one in the E.A.T.™ format. The top five overall finishing teams from those two opening round formats will go on to WFC's Top Ten Round, which will utilize the E.A.T.™ methodology.
Structured builds, infusions and special challenges for all categories will be announced by July 1, 2019, a full month ahead of last year's announcement.
Competitor registration for any qualified contestants will open February 1st. In the meantime, f
ollow the World Food Championships on Twitter (@WorldFoodChamp), Facebook and Instagram (@WorldFoodChampionships) for more Food Sport updates.
« Back to News