German Barbecue Team Crowned World Barbecue Champions
Share:
Posted Jan 16, 2019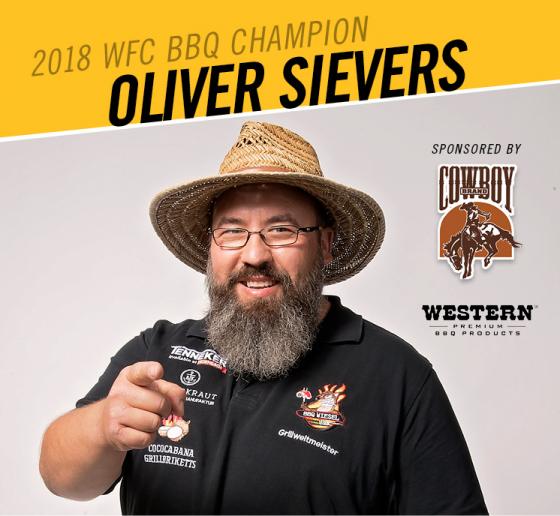 Germany may be known for their brews, but this German pitmaster just won $10,000 for his barbecue.
Oliver Sievers and his team, BBQ Wiesel, made Food Sport history at the World Food Championships (WFC) as the first international team to ever be crowned a World Barbecue Champion. For their outstanding performance, Oliver and his team were awarded a $10,000 check and a spot to compete at WFC's Final Table challenge being held in early 2019.
Oliver, head cook of BBQ Wiesel, is a trained carpenter who now works as a grill master and meat specialist at DON CARNE. Since 2012, he has been competing around of world with the BBQ Wiesel team. While his team has managed to rack up several championship wins along the way, Oliver's favorite part is the camaraderie.
"The most important thing about barbecue is the fun you get to have with family and friends," said Oliver.
Oliver's team's mission is to aspire and achieve the greatest possible success with the greatest possible fun, dedication and team spirit.
WFC was a new and exciting challenge for the enthusiastic German cook team since they have never competed under WFC's E.A.T.™ judging methodology.
"We had only competed in the United States according to the KCBS rules and didn't really know what to expect at the World Food Championships," said BBQ Wiesel team member, Thorsten Brandenburg.
Oliver and his team managed to adapt well to WFC's competition structure and proved to be victorious. For his final dish, they prepared a Lamb T-Bone with mashed potatoes and roasted vegetables. Finishing the competition with an overall score of 98.3333 out of a possible 100, the BBQ Wiesel Team took first place in WFC's Barbecue Category
On the team's blog, they noted that winning WFC was truly a dream come true, considering it their biggest win yet.
Oliver and his team will now prepare to battle it out against nine other category champions at WFC's Final Table, where the winner will go home with an incredible $100,000 grand prize package.
For the first time in WFC's history, the Final Table will be a destination challenge that requires the champions to travel to a great American city and replicate dishes from the host city's heritage to be judged by local celebrity chefs. Details on the Final Table process and location will be revealed at a later date.
To review all the 2018 World Food Championships results, visit www.worldfoodchampionships.com/scores. For Food Sport updates, visit www.worldfoodchampionships.com and follow the World Food Championships on Twitter (@WorldFoodChamp), Facebook and Instagram (@WorldFoodChampionships).
« Back to News