Phoenix Home Cook Creates $10,000 Dessert Dish at the World Food Championships
Share:
Posted Jan 4, 2019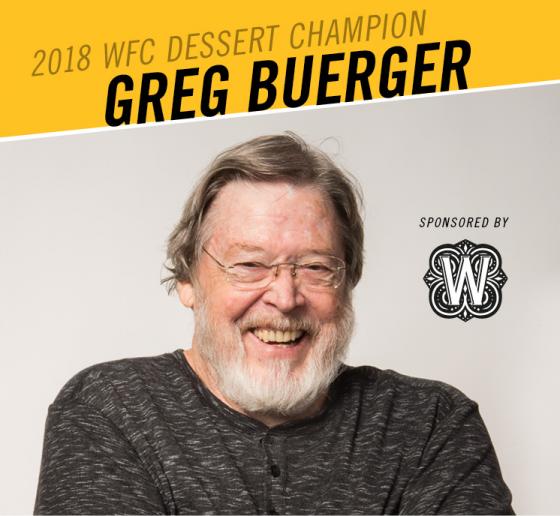 His last name might have you thinking he has a finesse for flipping burgers, but home cook Greg Buerger's culinary talent for whipping up delicate desserts is what earned him "sweet" success at the World Food Championships (WFC). With an overall score of 94.01666 out of 100, he was crowned the 2018 World Dessert Champion, won $10,000 and earned a spot to compete at the Final Table challenge being held later this year.
Greg credits his wife and family for encouraging him to start participating in competitive cooking over ten years ago. With a few State Fair Championships under his belt and experience helping his wife in the 2013 Bacon World Championship, Greg decided to step up to the Food Sport plate.
"Our family started competing in various culinary competitions for fun," said Greg, "when, eventually, we decided to make WFC a family affair."
Since then, Greg and his family team have put their culinary skills to the test in WFC categories such as Recipe and Bacon, but soon discovered Dessert was their sweet spot. Last year, this Phoenix cook barely missed claiming the World Dessert Champion title with a second-place finish. However, even with this Food Sport experience and success, Greg did not expect his 2018 category win.
"I knew the tough level of competition I was up against." said Greg."It blew me away when they announced I was the new champion."
For his next venture, Greg will take on the other nine WFC category champs in the ultimate test of skills, performance and creativity. Meanwhile, he reflects on what he loves most about competing in Food Sport.
"My favorite part about WFC is the quality of the people that you get to compete against," said Greg. "The level of competition is superb and everyone is super friendly and always willing to help each other."
With the largest prize purse in Food Sport history up for grabs in the final cooking showdown, the 75-year-old champ remains calm under pressure.
"Our team's attitude is just to have fun," said Greg.
For the first time in WFC's history, the Final Table will be a destination challenge that requires the champions to travel to a great American city and replicate dishes from the host city's heritage to be judged by local celebrity chefs. Details on the Final Table process and location will be revealed at a later date.
To review all the 2018 World Food Championships results, visit www.worldfoodchampionships.com/scores. For Food Sport updates, visit www.worldfoodchampionships.com and follow the World Food Championships on Twitter (@WorldFoodChamp), Facebook and Instagram (@WorldFoodChampionships).
« Back to News