Florida Chef Takes Home Championship Win at the World's Largest Food Sport Event
Share:
Posted Jan 3, 2019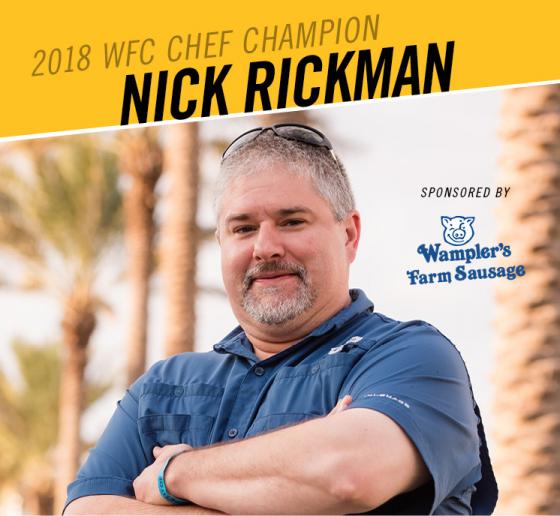 According to Chef Nick Rickman, a recipe for success at the World Food Championships (WFC) has three main ingredients: passion, persistence and focus. This year, Nick managed to beat out a field of talented chefs to become the 2018 World Chef Champion. His performance brought home a $10,000 check and reserved his spot to compete at WFC's Final Table challenge being held in early 2019.
The Florida chef is no stranger to Food Sport. In fact, he and his wife have competed in WFC for several years and have come close to claiming a category win. Before this year's big success, Nick's claim to food fame was his third-place finish in the 2016 World Steak Championship.
"We've been very close to winning it all many times and I'm very grateful," said Nick. "It just goes to show persistence and passion pays off."
Since Nick grew up with two working parents, he would often be responsible for meals. This led the aspiring chef to experiment and create innovated cuisines. Nick attributes his work ethic, zest in the culinary field and passion to his biggest influencer –– his grandfather.
"My grandfather came to the United States via Ellis Island where he started working as a dishwasher at the Waldorf Astoria Hotel in New York City," said Nick. "Even though he had a previous culinary background, he still worked his way up and later relocated to Atlanta and opened up one of the first family steakhouses."
Following in his grandfather footsteps, Nick also started out as a dishwasher eventually working his way up to prep cook then to head cook and so on.
Seven years ago, he began his full-time culinary career by opening a small catering business and food truck. Now, Nick serves as the Executive Chef and owner of The Salt Block Restaurant in Marianna, Florida.
Since being crowned the newest World Chef Champion in November, Nick has been preparing to go head-to-head with the other nine category champs in a battle to be crowned the next World Food Champion. While he is excited about the grand challenge, Nick says he is content with his success thus far.
"The World Food Championships gives a platform for the best cooks to emerge without any bias," said the 2018 World Chef Champion. "WFC means everything because it's my chance to go against the best. It means the world to just be the champion in my own category. However, I definitely want more. My motto is to stay humble, stay hungry and stay focus."
When asked what he would with the $100,000 if he won, Nick said the money would go towards rebuilding his home that was damaged by storms in his area. Many of Nick's fellow Food Sport competitors thought this tragic event would prevent him from attending WFC this year. However, nothing was going to stop this passionate chef from going for the gold.
"Once everyone heard the news, a lot of people assumed I wasn't going to compete in Orange Beach this year since I wouldn't have much time to prepare," explained Nick. "I quickly corrected them and let them know I wouldn't miss this (WFC) for the world."
Perseveration and dedication certainly paid off for this Final Table finalist. Now, as Nick prepares to compete for the biggest prize purse in Food Sport, he is hoping his experience and talent will pay off once again.
"To win it all truly would be the icing on top of the cake," said Nick.
For the first time in WFC's history, the Final Table will be a destination challenge that requires the champions to travel to a great American city and replicate dishes from the host city's heritage to be judged by local celebrity chefs. Details on the Final Table process and location will be revealed at a later date.
To read more about the other nine category champions, visit www.worldfoodchampionships.com/news. For Food Sport updates, visit www.worldfoodchampionships.com and follow the World Food Championships on Twitter (@WorldFoodChamp), Facebook and Instagram (@WorldFoodChampionships).
« Back to News