Roanoke Restaurant Owner Wins $10,000 at the World Food Championships
Share:
Posted Jan 3, 2019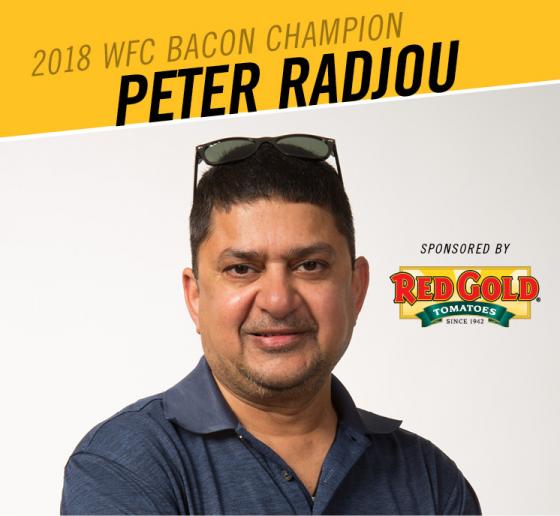 Chef Peter Radjou knows how to bring home the bacon –– $10,000 worth that is! The India-native Chef took home the Bacon World Championship title with his "Acorn Squash Stuffed with Bacon and Fall Vegetables" entry at the World Food Championships (WFC), which was presented by Walmart and held Nov. 7-11 at The Wharf in Orange Beach, Ala.
The four-time WFC Bacon category competitor enjoys offering the public authentic Indian meals at his restaurant, Tazza, in Roanoke, Va., but still finds ways to indulge in his love for cooking bacon.
"I compete in Roanoke's Bacon Festival every year and have taken first place five times," said Peter.
"Try and try again" has been this seasoned Food Sport competitor's motto throughout his Food Sport history. Until his recent championship win, Peter had never claimed a WFC Top Ten spot.
"Mike [President and CEO of WFC] kept telling me to keep trying, so I did, and it finally paid off," said Peter. "I was so happy to make Top Ten and finish second place the Opening Round."
Peter, unlike some of the champs, did not fully prepare his recipe for his final dish before arriving at WFC. Instead, he planned his winning dish based on the ingredients that were locally available to him in the area.
"Since I had never made it into the Top Ten before, I wasn't really expecting to cook in the Top Ten round," explained Peter. "Once I knew I had made it into the final round, I decided to create a dish featuring local ingredients and portray a fall-inspired dish."
Peter will now prepare to take on the other nine WFC category champs in the ultimate test of skills, performance and creativity at WFC's Final Table, where the 2018 World Food Champion title and $100,000 prize will be determined.
More details on the Final Table process and location will be revealed at a later date. In the meantime, follow the World Food Championships on Twitter (@WorldFoodChamp), Facebook and Instagram (@WorldFoodChampionships).

« Back to News