Georgia Restaurant Owner Crowned World Burger Champion
Share:
Posted Dec 28, 2018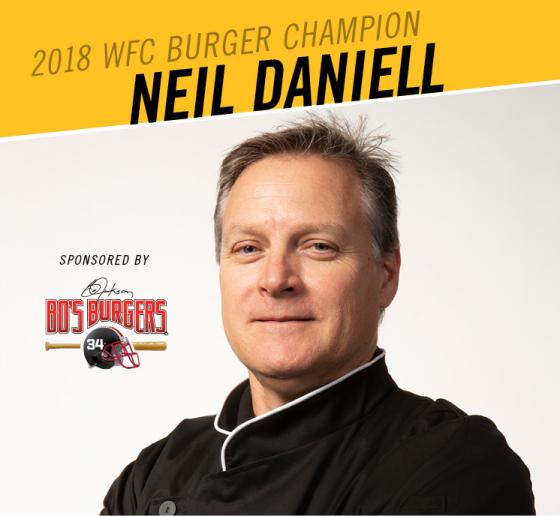 They say "practice makes perfect," and for this seasoned Food Champ, it couldn't be more true.
Neil Daniell finally snagged the World Burger Champion title this past November in Orange Beach, Alabama. His final dish titled, "Chunky Avocado Cheeseburger with Candied Bacon," earned him $10,000 and a spot at the World Food Championships' (WFC) Final Table challenge being held in 2019.
Neil and his wife founded KirbyG's, a 1950's inspired diner, in 2008. Since the diner is located right outside Atlanta in McDonough, Georgia, it's unique menu creations have been deemed "Atlanta's Best Burger place," not once but twice! In addition, you may have seen a few of KirbyG's employees (also known as the "Pit Crew") on "Atlanta Eats TV" or Travel Channel's 2018 "Best in Food" series. The World Burger Champion expresses the impact that Food Sport has on his restaurant business and team throughout his years competing.
"Food Sport inspires and gives the people in the restaurant industry something to shoot for," explains Neil. "It encourages us to constantly be creating new recipes and perfecting long-standing favorites. It also serves as a great way to train staff."
He contributes his Food Sport success in the five-day, fast-paced cooking tournament to his dedicated staff and team.
"I've been competing with my team, Lindsey and Justin, four out of five years at WFC," said Neil. "This win wouldn't have been possible without them."
The veteran competitor also attributes his team's accomplishments at the Ultimate Food Fight to developing a great strategy and participating in many hours of practice. In fact, the 2018 World Burger Champion claims his team rehearsed more than 100 practice-runs.
"Our first year at WFC, we had no clue what we were doing... we knew we could make great hamburgers, but we didn't truly understand how to execute like we needed to," Neil explained. "I say that's the biggest difference between now and then."

Despite having a solid plan in place, Neil was still not expecting to take home the World Burger Champion title and $10,000 grand prize.

"When my name was called, I was shocked. Before the awards, my teammates and I had reviewed the (WFC Facebook) live stream and discussed how we thought we stacked up against the other Top Ten competitors," Neil explained. "I knew we had to make up about seven points to win it all. Realistically, I thought we might have a chance to make the top five, at best."
Lucky for Neil, his performance surpassed his prediction. Now, he will prepare to go head-to-head with the other nine category champion at WFC's Final Table. In the finale showdown, competitors will be faced with a destination challenge that will require them to replicate dishes from the host city's heritage.

"I'm not nervous yet, because I've already accomplished so much. I know I'm going up against some great people," noted Neil. "As long as we execute our recipe well, I will be happy no matter the outcome."
More details on the Final Table process and location will be revealed at a later date. In the meantime, follow the World Food Championships on Twitter (@WorldFoodChamp), Facebook and Instagram (@WorldFoodChampionships) for more Food Sport updates.
« Back to News