Rookie Competitor Raises The Stakes at the World's Largest Food Sport Event
Share:
Posted Dec 21, 2018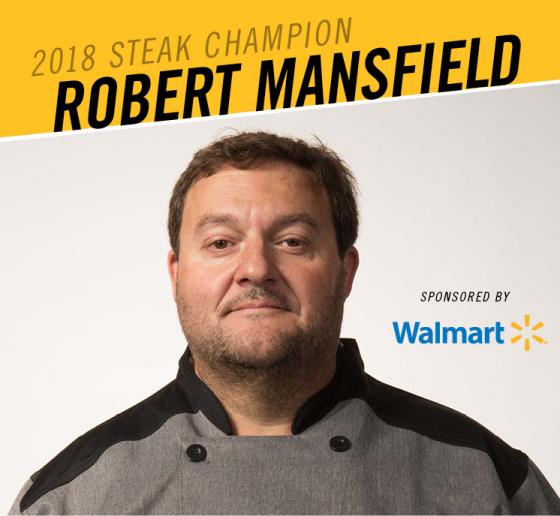 Robert Mansfield entered the World Food Championships (WFC) with only five previous steak events under his belt, proving it's anyone's game in Food Sport! Not only was he crowned the 2018 World Invitational Steak Champion and took home $10,000, he now has a chance at WFC's $100,000 Final Table prize purse.
Robert qualified for the five-day, fast-paced, tournament-style cooking competition through the Steak Cookoff Association competition. The New Jersey-based cook shared that even though he is new to Food Sport and steak competitions, he has always had a passion for grilling, cooking and baking. While it is uncommon for a Food Sport newcomer to be crowned a champ their first year competing, Robert is no stranger to achieving rookie wins.
"A good friend of mine started a competition barbecue team about ten years ago, and I took over cooking chicken and ribs for their team. In my very first competition where I cooked by myself, I won the chicken category. Since then, I have had multiple first place wins and top ten calls in both categories," explained Robert.
"Steak competitions are new to our area in the Northeast," he said, "but I think our team has proven ourselves in a short time period of time."
With Robert's Food Sport journey in its beginning stages, this champ is looking forward to many more opportunities to bring the heat.
"For years, I have been competing as a team and doing well, yet knew I always knew I was capable of doing and achieving more," said Robert.
"I am really a new face in the scene," he said, "but hope to prove I am for real at the Final Table and for years to come."
In addition to the thrill of hearing his name called as a winner, Robert also expressed that one of his favorite parts about competing is the camaraderie between competitors.
"It's more like competing against your family; everybody is happy for each other," shared Robert.
Now, Robert is going for gold at WFC's Final Table where he will take on the other nine category champs. Being the first male to be crowned a World Invitational Steak Champion and having both previous Steak Champs (Kari Luke 2016, Lisa Gwatney 2017) go on to become World Food Champions, you could say the "steaks" are high for this 7th season competitor!

This year's Final Table will be a destination challenge that requires the champions to travel to a great American city and replicate dishes from the host city's heritage to be judged by local celebrity chefs. Details on the Final Table process and location will be revealed at a later date.
To read about the other WFC category champs, visit
www.worldfoodchampionships.com/news.
For Food Sport more updates, follow the World Food Championships on Twitter (@WorldFoodChamp), Facebook and Instagram (@WorldFoodChampionships).
« Back to News