Lady Pitmaster Turns Charcoal into Major Cash at World's Largest Food Sport Event
Share:
Posted Dec 19, 2018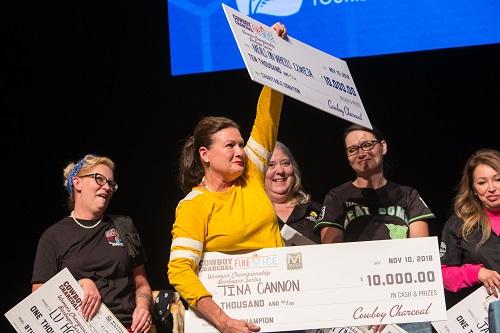 From a female-only grilling competition to a charity-focused contest to throwing it down with the big boys of barbecue, Pitmaster Tina Cannon left the five-day Food Sport event in Orange Beach, Alabama, proving girls can grill and winning the largest prize purse of the tournament –– $21,600.
The key to her success? Cowboy Charcoal and its lady pitmaster program, the Fire & Ice Women's Championship Barbeque Series (Fire & Ice Series). This program developed a platform for all female-led barbecue teams and gave these lady pitmasters an additional outlet to compete in the World Food Championships' Barbecue Division. Tina exceeded in both.
The Georgia-based pitmaster was the only female to earn her way into the World Barbecue Championship Top Ten round. Tina placed sixth overall –– winning $1,600 –– and even managed to beat her fellow competitor and husband, Bobby Cannon who took 10th place. In addition to her success in the main event, Tina was also crowned the 2018 Fire & Ice Series Grand Champion.
As the winner of the ladies-only Fire & Ice Series challenge, Tina took home a $10,000 prize purse that included a custom-made bracelet from Manning Jewelry in Fairhope, Alabama. In addition, and as Tina put it, "her most meaningful win," was being awarded an additional $10,000 check to go to the charity of her choice, Meals on Wheels of Coweta. Tina volunteers at the charitable organization by cooking anywhere from 750 -1,000 meals a week for the elderly in her community.
"This [the $10,000 check to Meals On Wheels Coweta] is more important than the money I won," Tina explained.
Tina is a lady pitmaster, who from the start, has been proving that she knows her way around the smoker just as well as any man. This seasoned pro competes in at least 20 competitions a year, and she has been a finalist in Fire & Ice Series every year since its inception in 2016. Tina has always been very passionate about competitive barbeque and encourages other ladies to give it a go.
"I think a competition like this really helps with the transformation we are seeing in the barbecue circuit. Seeing other ladies compete lets girls know they can do it too," said Tina. "It helps teach them if you are a girl who likes to cook, you don't have to bake cakes (not that there's anything wrong with it), but you can get in there, handle meat and do it just like anyone else can."
To read more about Tina and the rest of the Fire & Ice Series finalists visit, http://cowboyfireandice.com/. To check out Cowboy Charcoal's wide selection of barbecue products, visit www.cowboycharcoal.com/.
To review all the 2018 World Food Championships results, visit
www.worldfoodchampionships.com/scores.
For Food Sport updates, visit www.worldfoodchampionships.com and follow the World Food Championships on Twitter (@WorldFoodChamp), Facebook and Instagram (@WorldFoodChampionships).
« Back to News