The World Food Championships Announces BIG Relocation for 2019
Share:
Posted Dec 14, 2018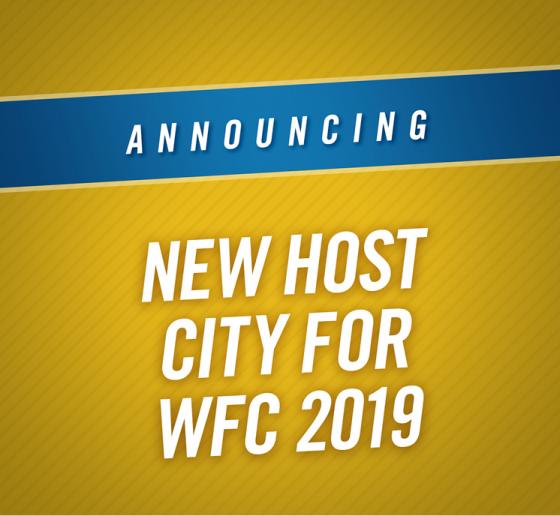 DALLAS, Texas. — For the past three years, Food Champs have had to focus on their "A" game to cash in on Food Sport's biggest prize in Alabama. But in 2019, they're going to have to think about their "B" game. As in their "BIG" game, because Food Sport is moving to Texas in a BIG way.
World Food Championships (WFC) announced today that it is taking its Main Event to Dallas, Texas, where the continued expansion of WFC will occur over the next several years with the help of VisitDallas, the Dallas Sports Commission and many new major sponsors.

"They say everything is bigger in Texas. Well, we're excited to make this BIG announcement for WFC and begin our transition to one of the largest metro markets in America," commented Mike McCloud, President/CEO of WFC. "Our event gets bigger and better each year, and we truly believe that relocating to Texas in 2019 is going to help us expand Food Sport and the WFC enterprise in ways never before possible."
"Dallas is the perfect destination to host the World Food Championships, and we are very excited to welcome Food Champs to Dallas," said Phillip Jones, President and CEO of VisitDallas. "When it comes to competitive cuisine, Dallas' status as a national food destination is on the rise. Recently, we were singled out by GQ critic Brett Martin as the "Next Best New Food City." Celebrity chefs such as Dean Fearing, Kent Rathbun, Stephen Pyles and a variety of others are keeping the constantly evolving restaurant and entertainment scene attractive and in demand."
McCloud pointed out that this partnership brings the opportunity to introduce the 5 million people in the Dallas metro area to the fun and action-packed world of Food Sport. Dallas, which was recently named one of the Top Food Cities in America, has an impressive and growing culinary scene. In addition, Texas represents one of the top three competing states in WFC history. With more than 100 contestants over the past five years, Texas residents have always shown great culinary talent and performance at WFC. In addition to those aspects, WFC's CEO also noted a few additional factors that played into the competition's relocation:
Dallas is one of the top five media markets in the nation, according to Nielsen Holdings

Dallas has two major airports that allow direct travel access from almost anywhere

Dallas has developed a strong reputation as America's start-up city for food concepts
"We have seen great growth throughout Food Sport over the years and we are very excited for this new transition," added McCloud. "Our new host location in Dallas — which we will announce in January — will help us provide a more centralized geography for our national and international teams; it will provide room for more expansion on our competition grid, it will allow more exciting additions to our consumer fest; and it will set the scene for an enhanced television / awards program."
Over the course of the event's history, WFC has awarded more than $2 million in cash and prizes, garnered more than 6.9 billion media impressions and connected 200+ food brands with food fans, food bloggers and food contestants. In short, the WFC platform has given birth to "Food Sport" by providing a level playing field, a fair judging system, innovative culinary programming, ambassador opportunities, TV visibility and a process that allows talented culinary teams to gain the respect they deserve.
"We welcome the World Food Championships to Dallas," said Executive Director of the Dallas Sports Commission, Monica Paul. "The Dallas Sports Commission prides itself on hosting the top championships and competitions, and as Food Sport's Main Event, the World Food Championships will be a great addition for the Dallas community to experience."
In 2017, WFC reached critical mass after partnering with two global companies with significant influence in strategic areas. Walmart, the world's largest grocery retailer, signed on as WFC's presenting sponsor and retail partner. Secondly, Dick Clark Productions, the world's largest live event television producer, signed on as WFC's broadcast partner to expand the event's reach in traditional media worldwide.
As WFC makes the shift to its new host site in Dallas, Texas, WFC's president reflected on the accomplishments and partnership support that Food Champs experienced in the community of Orange Beach, Alabama.
"Our previous host site embraced our competition with open arms and open minds, providing us with vital support that helped make our event a huge operational and strategic success over the past three years," noted McCloud. "We are grateful to the great partnerships we formed with Gulf Shores and Orange Beach Tourism, the City of Orange Beach, the Wharf and all of the additional support from local businesses and members of this beautiful community. It's a great feeling to know that many of our Food Champs are now deciding to buy condos and vacation annually in Orange Beach as a result of our time there."
Dates for the 8th Annual World Food Championships will be announced within a few weeks as negotiations with the official site are finalized. But in the meantime, WFC staff is turning its focus to the 10 Category Champions who emerged from the 2018 Main Event. Promoting and prepping them for the ultimate food fight — and a $100,000 grand prize — begins December 18th.
To review all the 2018 World Food Championship scores and results, visit https://worldfoodchampionships.com/scores or like the event's Facebook page. For more updates from WFC, visit www.worldfoodchampionships.com or follow World Food Championships on Twitter (@WorldFoodChamp), and Facebook or Instagram (@WorldFoodChampionships).
« Back to News