The World's Largest Food Fight is Dishing Out Big Numbers
Share:
Posted Nov 1, 2018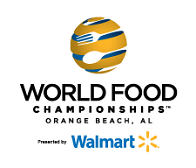 The 7th Annual World Food Championships (WFC), presented by Walmart, is now just days away, and its impact is already being felt throughout the Gulf Coast and Food Sport Nation. More than 500 teams, 70+ media outlets and thousands of foodies and judges from over 40 states will be setting their GPS devices to the world's largest food competition at The Wharf in Orange Beach, Alabama. The attraction? Food TV up close and personal, not to mention fantastic food. And tons of it! All being prepared by professional cooks in hopes of grabbing a slice of the event's $350,000 prize purse.
So what is WFC's recipe for a successful food fight? Check out the ingredients on what goes into the world's largest Food Sport event:
1,500+ contestants, ranging from home cooks to trained chefs to pro teams, battling in 10 categories for the hopes of claiming the ultimate World Food Champion title.

5,994 dishes of competition food

377 professionally trained E.A.T.™ judges

550+ volunteers

100+ companies featured throughout the championships in places such as the Walmart Tasting Pavilion, Kitchen Arena and BBQ Beach.

50,000 lbs of food that will be available to contestants through the WFC Food Pantry.

30+ unique cooking demos being performed on The Walmart Main Stage (featuring MAXimus Demo Truck).

21 returning WFC Category Champions who will attempt to defend or reclaim their world food titles.

13 local universities and high school culinary programs who will be assisting the organizers and contestants.

10 "cheferees" who will make sure that the rules and regulations are being followed throughout the food fight

Three different TV film crews that will be covering and capturing the activities for different shows on national networks.

Two former NFL greats who are involved in the food activities: Bo Jackson and Jarvis Green, both of whom have their own food companies now, and

One mobile app that will dish out all of the food competition and event information in a central location.
Don't miss your chance to be in the front row of this one-of-a-kind foodie experience. Daily Admission is just $10 (kids 12 and under are free)! Click here to see the full list of food-fun family events happening at WFC.
The 7th Annual WFC, presented by Walmart, will be held Nov. 7-11 at The Wharf in Orange Beach, Alabama. Find out more about this year's competition and special food and family events like the World Food Games, Soup-Or-Bowl Sunday and more by visiting at www.worldfoodchampionships.com or follow World Food Championships on Twitter (@WorldFoodChamp), and Facebook or Instagram (@WorldFoodChampionships)
« Back to News